Student Council Offers Free Prom Ensemble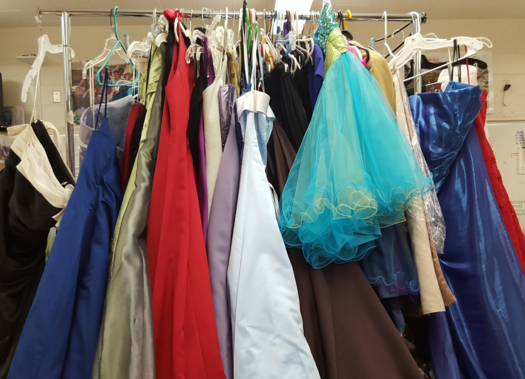 Prom is an expensive event. With the prices of dresses, shoes, bags, and jewelry, many find it a struggle on their wallet. To help alleviate costs, Student Activities Coordinator John Goto is offering free prom dresses to students in need.
Goto said that most donors have ties to the school, with donations "from alumni, families of alumni, military wives and daughters."
The process of trying on and receiving a dress is simple.
"Anyone who wants a dress can try it on. They have the privacy to… come to the room. I leave, and they can try on things by themselves, or with a friend," Goto said. "I used to ask for it back, after they dry cleaned it, but now with so many we just tell them to keep it."
Students can also be sure they are being given quality formalwear, as they are dry cleaned, examined, and sorted before they are given to them.
Donations don't just stop at dresses. Jewelry, shoes, bags, and hair pieces are also offered.
With many students struggling to pay pricey out of pocket expenses, a simple donation such as a prom dress can make a big difference.
"This helps the families, [because there is] less for them to spend. I just saw this as a win win for students and the community. Many alumni outgrow the dresses, or will never go to a prom again, or will get another gown. So there are always others who can use it to save their money for other things," he said.
Anyone interested in donating dresses and shoes can contact [email protected], or at 421-4218.