Rams Prepare for WASC Visit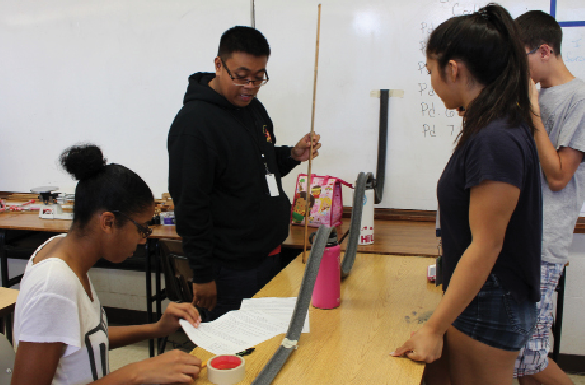 By The RamPage
Radford High School hosts a multitude of guests throughout the year, but eyes will focus on a special group's visit on Feb. 6 – Feb. 9.  Members representing Western Association of Schools and Colleges will be on campus to examine the school's self-study process to provide quality learning for students and commitment to school improvement.
It's a recurring visit that occurred since 1999 when Radford received accreditation from WASC, a commission that recognizes schools of acceptable quality. The visiting team will determine if, and the length of time the school will receive accreditation.
Radford High School's first accreditation by the Western Association of Schools and Colleges occurred in 1965. Radford has since been accredited in 1999, 2005, and most recently in 2011.
Accreditation is an ongoing self-study process and is integral for the school to continually seek improvement. Following the 2011 full visit, the WASC visiting committee returned for a mid-term visit in 2014, which resulted in no additional recommendations for follow-up.
Accreditation will give legitimacy to the school, as the visiting team will validate the school as an acceptable learning institution. Although a school may function without accreditation, most colleges and universities, and trade/technical schools may reject applicants who do not graduate from an accredited institution.
Since the last accreditation visit, faculty members resumed the process and were tasked with looking at themselves and showcasing what their students are learning, as well as determining what areas are in need of improvement. Information was gathered, and evidence was collected from teachers, students, parents, and the community.
Career Technical Education coordinator Tiffany Petersen said,  "We have meetings to prepare, and to gather student work."
A full report was submitted in December to the WASC chairman, and will be followed up by a visit by WASC members.
In preparation for the team's visit, the school's faculty met regularly to discuss and collaboratively write an in-depth study of themselves identifying what the school is doing well at and what is needed to improve on.
Faculty members met in one of five assigned focus groups: organization, curriculum, instruction, assessment, and student support.
Another component of this self-study process is hearing from students. Students participated in school surveys through English and Advisory classes, RAM meetings and advisory discussions, along with communicating with teachers and other faculty members.
Through surveys, interviews, and discussions, the school learned that students feel their biggest challenges include time management, study skills, asking higher level questions, and reading comprehension.
Student feedback revealed information that allowed faculty to examine how they can address  ways to support them. Based on responses, students'  reasons for not completing homework are because of their lack of understanding, procrastination, lack of time, and forgetfulness. Surveys also confirmed that students are aware of support services (College and Career Resource Center, Counseling Center, Teen Care, afterschool tutoring) on campus. According to more survey results, students feel that TASK, tutoring, and teacher encouragement and assistance help them be successful. Most students feel they learn best from hands on activities, collaborative work, and using technology.
Social studies teacher Gwynne Johnson is not new to the accreditation process, and will participate in her fifth WASC visit. Johnson sees how technology has made a difference in her classroom.
She said that teachers who aren't using Google Classroom may "fall really behind the power curve because we're all about the online assignments."
Science teacher Teresa Williams is new to the school and accreditation, and sees the benefits of this process.
"Being a part of WASC has really encouraged me to think outside the box and try a variety of activities with my students," she said.
During the visit, committee members want to see what Radford is all about. So, students should be prepared to see visitors in their classrooms.
Sheila Asuncion (9) said that the morning bulletin and her teachers informed her about how "WASC is a process. [People] will go around the school to ask students questions. Also, they need to know if our school is meeting a high standard."
This is resource teacher Nathan Krahn's first year at the school. He is preparing for the visit by creating flashcards of important information and terms from his section of the report.
"I am studying those, and practicing what to say, starting with what we do as a school, and then transitioning to what I do in the classroom," he said.
Weeks leading up to the visit, faculty members are participating in afterschool Socratic Seminars and reviewing their portion of the self-study report.
Krahn said, "I'm glad it happens once every six years and feel prepared to answer questions."