Lum Returns to Alma Mater for Dream Job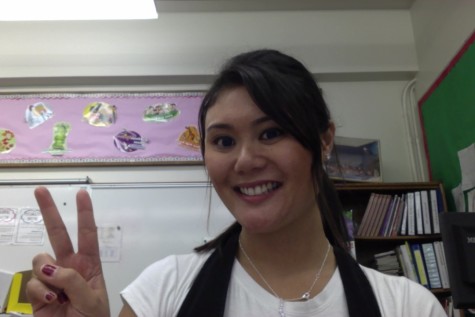 Social studies teacher Tiffany Lum is not new to Radford. A long time Ram, she is an alumna, and completed her student teaching at the school. "The students and teachers here are great," she said. "This is my dream job. I get up every morning so excited to come to work."
Social studies teacher Tiffany Lum is no stranger to Radford High School.
Lum teaches World History, Modern History of Hawaii, and Participation in Democracy.
She is an alumna, who also completed her student teaching at the school. She said that she "truly feels that it is a wonderful place to be. I have many wonderful memories here and hope to make many more."
"The students and teachers here are great," she said. "This is my dream job. I get up every morning so excited to come to work."
In addition to her teaching duties, she is also active with athletics.
"I am helping with the wrestling team, "she said, "and we need more girls, so if you are interested please come and see me in room 262."
She said that she wants to continue to "perpetuate the legacy of inspiration and motivation for success that already exists here."
In her spare time she rides her motorcycle around the island, watches movies, and strives to make new experiences and awesome memories.