Daily Water Guidelines Proved Myth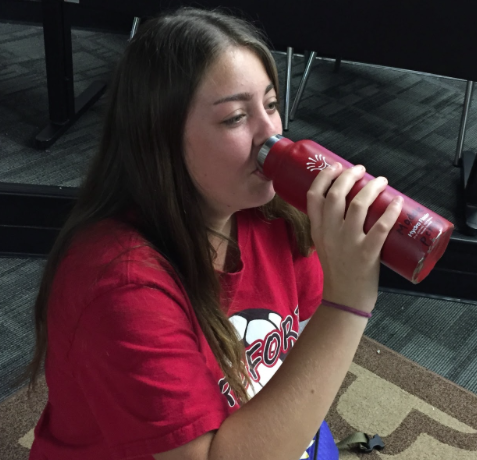 It's a common health standard that's been commonly encouraged: drink at least eight glasses of water a day for a healthy lifestyle.
Kanaya Jetnil (9) said that she drinks about 7-8 cups of water a day "because I've always been told by my doctor to drink water."
"I drink water before I leave the house for school, when I get home, and after dinner," Jetnil said.
But, recently, this guideline has been disproved. Eight glasses are not the required amount of water you need to take daily, and here's why.
In 1945, the Food and Nutrition Board recommended people consume 2.5 liters of water daily. However, what they failed to include was that most of our water supply can actually be found in prepared foods. These can include beer, tea, and fruits and vegetables, all of which contain enough water supply to sustain most of your water source throughout the day.
In fact, eight glasses of water is considered to be a "very high" amount of water consumption, according to the New York Times news site.
Another problem with water requirement misconception includes dehydration. Your body shows signs of dehydration long before you actually have it.
Even the feeling of being thirsty doesn't necessarily mean you are dehydrated, yet. And when it comes to checking urine color for water deficiency, this can also lead to erroneous information.
Water drinkage is also associated with another mythical benefit: its ability to make skin healthier and higher in elasticity. No scientific evidence has proven any significant change in skin from increased water consumption. The same has been said for health benefits.
"By drinking water, it's been helping me keep my body healthy," Jetnil said. "It keeps me from being thirsty, and makes me feel like it keeps my hair and skin healthy."
So, what does this mean for us and water? Not that you won't need to keep tabs on how much you drink, but you definitely won't need to stress so much about your water intake.