The RamPage Interviews State Superintendent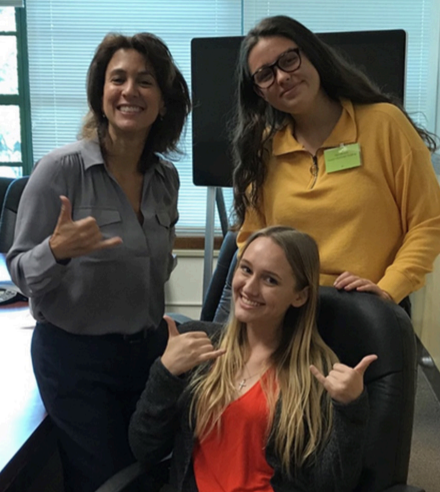 Hawaii Department of Education Superintendent Christina Kishimoto does not have a traditional background in education. Before being a superintendent for three different school districts, she was a financial manager in New York City's private sector.
Kishimoto received her Bachelor of Arts in English from Barnard College, her Master of Public Administration in Public Affairs and Policy from University of Connecticut, and her Doctorate in Education Administration from Columbia University. Her vision for the Hawaii school system is to build a "unique school system" where students are proud to attend, feel respected and honored, and are learning.
"I knew I wanted to go into education whether it was at the college level or K-12 level. As I got older I realize that the real change happens pre-k through 12th," Kishimoto said. "I was always very passionate about the civil rights of kids and the right that we have in our democracy to have access to a great school and a great education. No matter how poor you are or rich you are – you should still have access to a great education no matter what."
Kishimoto grew up in the South Bronx in New York City. She said it was a time where the city was suffering from a drug and violence crisis. After experiencing firsthand the effects of an underfunded public school system, Kishimoto made it her mission to improve the public school system for whoever she could. Her background in finance prepared her to work with the $2 billion budget for Hawaii's Department Of Education to make the changes she envisioned.
"It was a difficult time and I remember thinking, even as I was growing up, that I had cousins who lived in other areas like in Long Island, and they went to beautiful schools and my school had the playground ripped out," Kishimoto said. "We were sharing seats, we were sharing tables and desks, we had no curriculum materials. The teachers were doing the best they could and I remember thinking I want to do something where I can impact that no child should go to a school like this, should experience what I experienced growing up."
The fight for equal education means "eclectic" work days for Kishimoto where she is moving back and forth between multiple tasks. She credits managing the stress of her job to her team.
"As superintendent, I manage a budget that's over $2 billion and so we have lots of resources that have to be managed," she said. "My background in the financial world was extremely important for readiness for this and then my background around issues of civil rights and access and equity that I did at Connecticut State Department of Education was also great background in terms of organization that's focused on how much you provide quality access or equitable access to all students, no matter what school they go to so that they are guaranteed a great school program and a great school experience."
According to Kishimoto, she has an eclectic schedule she tries to stick to.
"I start off of a schedule but there's a lot of things that get squeezed in between and so I may be dealing with the budget and the next moment I'm dealing with personnel issues and next moment I'm dealing with a parent complaint. In the next moment I'm working with my board, in the next moment, I have a business partner who wants to talk to me, and the next moment I have a legislator who wants to meet with me," Kishimoto said. " One of the important things for me to be able to lead in that way is to be able to stop and start, stop and start and stay focus on whoever I'm working with at that moment."
While there are a lot of things fit into her schedule, there are moments she values that make her busy job worth it.
"My favorite part of my days is when I get into schools and meet with students and meet with teachers and see what's happening in the schools," she said. "Everything I do as a leader is only as important as how much it impacts what's happening with kids in the classroom."
She is proud of what has been accomplished so far under her leadership.
"I think I'm most proud and really bringing heightened attention on this issue of equity and making sure that all of our students are having a positive experience. The other is really starting to impact the culture to have our teachers our administrators our staff feel really proud about working here. They have choices to work anywhere and they're all very talented I am very proud to keep building a culture where they want to be here working in the public school system."
She envisions greater things for Hawaii public schools.
"I hope that we can create a school system where our schools are all very unique and that students when they go to the school they feel like a great pride in being there and that they were part of designing that school," she said. "School design is really important for me I don't think one school has to look like the next school. They all just have to be great schools. The idea that all public schools have to look the same is a very old concept. I want to make sure that's in the past and we're creating these great schools that students come out of there saying I don't want to miss a day tomorrow there's great stuff it's fun to learn and we feel respected and honored learning there."