Senior Picnic Brings Class Together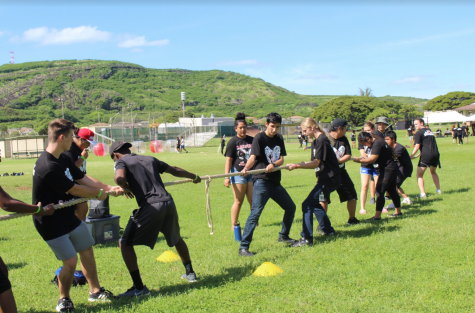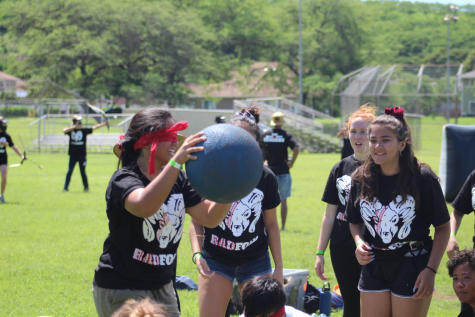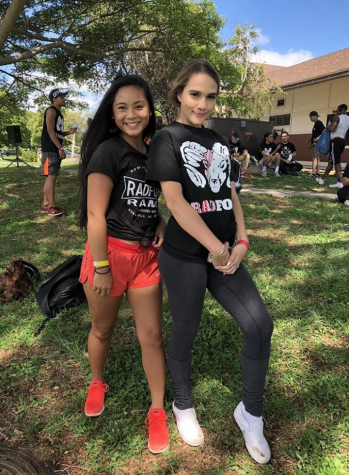 Over 160 seniors took a day off from their classes to attend the annual Senior Picnic at the Aliamanu Military Reservation Community Center on Sept. 21.
Senior Leadership planned this activity with the goal of creating memories with their fellow classmates.
Ralia Techur, a leadership student, said, "It's just a day where all the seniors can come together, relax, and enjoy food as well as each other's company."
"The goal was that we as Senior Leadership sought out for by throwing a Senior Picnic was to give the Class of 2019 a chance to rewrite their legacy," said Brandon Bagoyo, senior class president and one of the Senior Picnic planners. "All of our previous years we've always been on the shorter end of Homecoming competitions but that didn't mean we weren't gonna come back in the end in an underdog tale. Senior Picnic bestowed upon the Class of 2019 with a new, fresh start to really get to know each other as not only seniors, but as a family. We wanted to set the tone on the upside for our final year of High School."
The picnic consisted of several team and individual games such as Kamikaze Kickball, Tug of War, and volleyball. Then, seniors freely chose to play other games like blindfolded dodgeball, knockerballs, water balloon tosses, and much more.
While Abby Medrano had high expectations and looked forward to class bonding, her expectations were highly exceeded when she approached the wide variety of games.
"When we got there I was surprised by all the games there," she said. "I participated in most of the games like the kamikaze kickball and the blindfolded dodgeball. I thought the games were really fun. Some of them made us look like fools but we all had a little laugh and enjoyed ourselves."
Although many seniors attended Radford for a long time, some were still able to approach some familiar faces they've seen in the halls and make new friends.
Bagoyo was pleased.
"This also came the sense of bonding with classmates you've never met before," he said. "In a way, we can say that hopefully, a person or two kindled a new friendship with someone that will possibly last a lifetime."
"Generally, [my favorite part was] getting to hang with friends outside of school and meeting a few new friends," Erik Gapasangra said. "I liked the various games there like the kamikaze baseball, archery, inflatable tubes, balloon toss."
In addition to the physical activities, the event featured a photo booth in the lunchroom where students could take home a memento from that memorable day.
"Seniors could go in with their friends and take as many pictures as they wanted, to keep a souvenir of a fun day that they'll never forget," Bagoyo said.
The booth was popular among students, as Audrey Wills and Jayanne Serrano pointed out it was one of their favorite activities of that day.
"We took pictures that we get to keep forever," Serrano said. "I wish it lasted longer."
Overall, the Senior Picnic turned out successful.
"Every single senior I knew talked about how much fun they had bonding with their friends as a class. It sets us off on the right foot to fulfill many other hopes and desires throughout the year," Bagoyo said. "Wholeheartedly, we chose these activities to assure that the Class of 2019 Seniors had a blast making the best out of their senior year with their friends."
The day was wrapped in an abundance of entertainment, structuring close friendships, and capturing memories with their peers on their last year of high school.
"My favorite part from senior picnic was being able to spend these moments with the senior class and being able to enjoy various activities," Rejina Fernandez said. "It's a great way for all of us to bond before we graduate as the class of 2019."
"Personally, I enjoyed seeing a side of Radford faculty and staff as well as other fellow seniors that I've never seen before," Bagoyo said. "The side I'm referring to is the side that is genuinely having a great time. Laughs, smiles, and everything in between. It gives us a reminder that school and life, in general, doesn't always have to be serious. It's important to relax and have fun once in a while."