Baba wins 2018 Teacher of Excellence award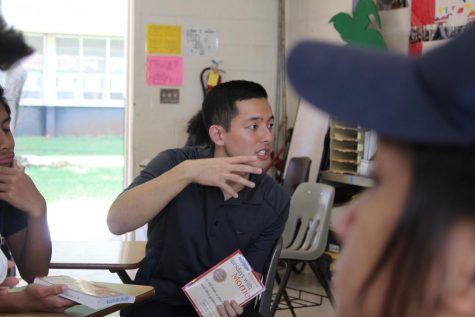 Trevor Baba is a second-year educator in the English department who is the recipient of this year's Teacher of Excellence award. He will be recognized at the 29th Annual HSTA Central Chapter Teacher Excellence luncheon in April.
Teacher of Excellence is an annual recognition where teachers nominate and vote for their colleagues.
"It's a huge honor for my coworkers to believe in me that way because working at Radford…there are so many awesome teachers," Baba said.
Baba currently teaches freshman AVID, freshman English, and sophomore Leadership. He is an alumnus of Aiea High School and University of Hawaii. He graduated with a bachelor's degree in Secondary Education with an emphasis in English Language Arts and is currently pursuing a Master's of Education degree in Educational Foundations from UH Manoa.
"He is very supportive and motivates us. He is very good at pushing his students to go above expectations and never settle for anything less," Tiffany Grisham (10) said.
Baba maintains a student-centered philosophy that drives how he teaches.
"I do everything I can to make sure that they are successful in whatever they think success is," he said.
With that in mind, he recognizes that it's always about his students first.
"It's never about the content we teach. It's really about how can I help my students reach their full potential, whatever that may be. So that starts with them, and it starts with what they need and not with what the standards need," he said.
While Baba appreciates the recognition, he has his sights set on a bigger picture that can't be measured with an award.
"If you think about it, like sports championship teams, they don't celebrate winning a game. They celebrate winning a championship. For me, teacher of the year or state teacher of the year, to me, that's not the championship. The championship is seeing my students being successful and seeing them be happy, and that's something you can't really measure [with] a trophy," Baba said.
He said that he sees his students like his own kids, and "I want to do anything I can to make sure that you get what you need, so that you can be successful."
"It doesn't matter to me how good of an English teacher I am. I don't think that matters. I think how we inspire students is that we care, and I think it's not just limited to teaching," he said. "Whatever it is you decide to do in your future, you have to really love what you do and if you love what you do, [it's] not just for the money part but for the care part."
Baba's commitment to his students is also what drives him to spend so much of his evenings, weekends, and even breaks at school. Chriztyne Calpito (10) sees the amount of time Baba gives up for the leadership class and what he means to her peers.
"He's a leader to his students. With all the stress our leadership class puts him through, we thank you for everything that you do for us," she said.
Despite everything he puts into his lessons and interactions with students, Baba reflects that there's more that he can still give to them.
"Everyday I go home, no matter if I work 8 hours or 15 hours, it's knowing there was more that I could have done for my students. And the hardest part is knowing that I didn't give my 110% to every single one of my students that day and to me that's difficult because that's why I'm here.  It's to give them everything I've got and knowing I don't do that all the time, everyday, that's the most challenging part," he said. "What makes great teachers great is they continuously strive to improve everyday not for their content but for their students."
Charlie Butz (10) recognizes his teacher's efforts and said, "[He] is always there to listen to his students and he always puts in the time it takes to be successful. He would work 24/7 if he had to."      
Teaching wasn't always in Baba's plans. He initially wanted to go into the business field but after helping his instructor with a class, the experience changed his career direction.
"My senior of high school and my freshman year of college was a very difficult time for personal stuff and family stuff, and it was during that time where my martial arts instructor allowed me to work with the kids," he said. "That was the first time I ever felt something positive in a really long time and I went with it."
"It was something I was really passionate about. I went to Leeward Community College and I took a class in teaching. I never looked back after that and it was the best decision I could have made."