Talent Show Sends Winners to Brown Bags Competition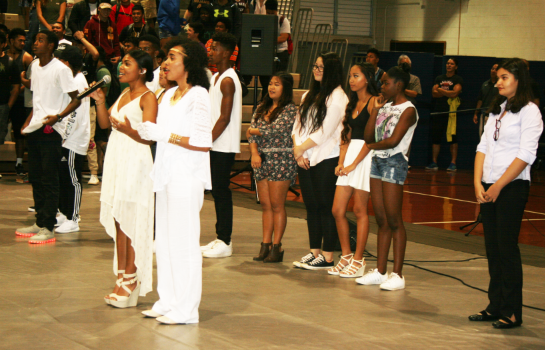 Brown Bags to Stardom is a talent show for those who can sing, dance, play an instrument, or even perform a dramatic interpretation.
It is open to elementary school, middle school, and high school students, and winners from the schools go on to compete at the Brown Bags to Stardom statewide finals on May 6-7 at the Blaisdell Center.
Winners representing Radford include: female vocalist Ciara Arthur (11) who took first place with her song "Hallelujah"; dancers (Da'Von Solomon [12], Timothy Lue [9], Jann Christian Sitchon [11], Samuel Jones [12], Baileigh Susak [11], Valkeegan Conception [11], and Aviana Manuma-Parsons [10]) from the group "Next Generation";  pianist Marielle Yasay (11) who won playing a mix of songs; and Georgina Greene (12) won in the variety category with her dramatic interpretation of a teacher.
According to the Brown Bags to stardom website, students representing their schools are placed in one of three categories (music, bands, and non-music) and compete with students in the same division in the same category.
Faculty members and judges Bruce Naluai, Jackie Baze, Troy Freitas, and Nicole Sherlock scored the contestants using a rubric provided by Brown Bags.
Arthur said that she is honored to have won because she's only been singing for a few years.
"I started when I was 14, and I'm only 16. My sister said that I sounded pretty good. And I said, 'Oh, really?'" she said. "I just sang at home to myself and with my family. Ever since then, I've been building up."
Arthur said that participating in the talent show was a goal she set for herself.
"This was on my bucket list," she said. "I was really scared to do the talent show, but this is my last year here in Hawaii. Even though I was scared, I practiced the whole summer. I didn't know which song I was going to do. I practiced a whole bunch of songs, and said that I'd figure it out as I go. I chose 'Hallelujah' and I prepared for Brown Bags by singing my song every chance I got."
In preparation for the statewide competition, Arthur is focused on learning more about the song.
"For my upcoming performance, I'm trying to have a true understanding of the song's real meaning so I can put this into my performance," she said. "I chose my piece because I think it's beautiful and has a good meaning."
Next Generation dancer Sam Jones said the group is holding daily practices to get ready for the May competition.
"We have everyday drills and group bonding," he said.
Next Generation member Susak said that the group chose their piece "because we thought it would be a crowd pleaser."
Sitchon, another member of Next Generation, said the group danced to "music that included a song everyone knew, a hype song and a groovy song. We prepared by practicing every day afterschool, and critiquing each other."
After hearing that their group was moving on to the next round, Sitchon said, "it felt like a lot of relief finally coming off our shoulders."
Greene chose her piece because she "wanted to represent teachers and aspire them with their students, but also because I thought it might be the least offending, controversial. In the previous three years, I wasn't able to go on and perform, because my pieces were deemed inappropriate. Somehow, I got lucky this year and was able to perform."
Yasay created a mixture of two of her favorite songs for the talent show.
"I practiced the mashup everyday so I could memorize it and perfect it," Yasay said. "I selected this specific piece because I wanted my performance to be unique and exciting."
She said that she feels "happy that I had an opportunity to share my talent with the student body."
"I plan on attending a performing arts school on the west coast, so I can continue to work on my acting and singing skills," Arthur said.
Yasay said her post high school plans are to attend University of Hawaii at  Manoa and get a master's degree in music education.
Jones said he plans to attend college locally and teach dance classes.