Volunteerism Active Among Rams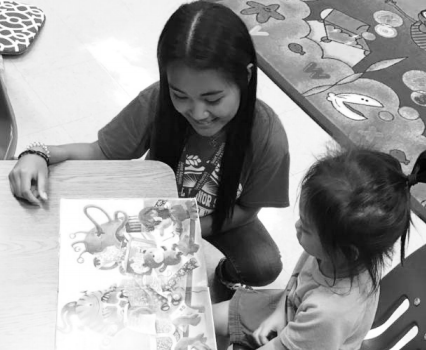 The second quarter was marked by Radford students taking part in a myriad of community service projects.
Leadership
Recently, senior leadership helped out by partnering with Radford clubs and organizations in school fun fairs and beach cleanups.
Senior class president Brandon Bagoyo (12) expressed that his leadership class has been trying to find the time in between their schedule to better the community and school overall.
They are also planning events for the class of 2019 such as the Senior Luau and the Junior-Senior Prom.
"[We are] getting ready for graduation and also finding the time in between to giving back to people through community service."
"To me, it's more than just being a grade level, class, it extends to being so much more. Being a community of students, teachers, family, and friends."
AVID
AVID students are required to complete 10-20 hours of community service per semester, with freshmen and sophomores expecting to log in 10 hours and juniors and seniors putting in 20 hours of volunteerism by Winter Break.
Over 70 students in the program spent a Saturday morning cleaning up the beach and campsite at Kalaeloa.
"The beach cleanup was a real eye-opener," Sarah Mack (9) said. She and her group filled a trash bag with wrappers, chips bags, water bottles, bottle caps, soda cans, and straws. A separate container was filled with broken glass.
Cameron Hindel (9) said he saw car parts strewn all over the area but was told not to touch them.
In addition to the activity's focus, students also realized other benefits.
"The cleanup was good for us to get to know each other and understand how mistreated the beaches are," Serafina Cid-Ross (9) said.
Interact
Interact Club is an organization with the sole purpose of volunteering and helping their community. Club president Xandria Roquid (12) said that the club has participated in over 25 hours of community service in the past semester, including a bowling event for 'Big Brother/Sister,' the Pearl Harbor Elementary Fall Festival, and a Robotics Competition.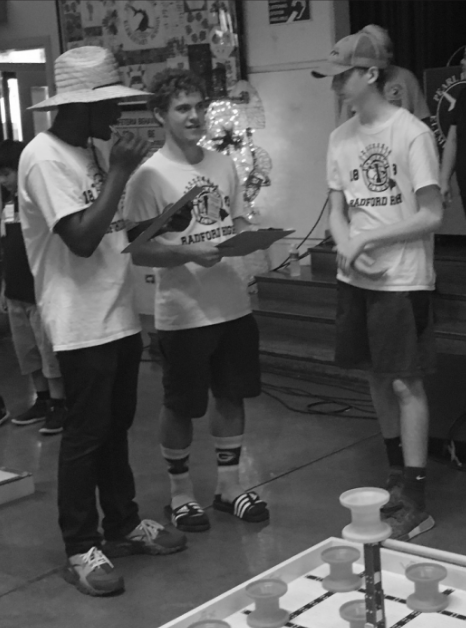 Jayanne Serrano (12) and Ariana Love (11) both joined Interact with the goal of helping their community, as well as meeting new people who hope to improve their environment as well.
"I'm currently in interact and I love it," Serrano said. "I love the idea of giving back to my community by volunteering and helping our environment, whether it be picking up trash, helping with planting, or removing invasive plants. One of my favorite projects is when we went hiking and removed all the invasive potatoes on the island. I had fun with my friends while also helping the island!"
Love agreed, and said, "Community service is a way for me to give back to my community that does so much for me already. I really like community service because I meet people that come from different backgrounds and lifestyles and we work together for the common good of society. My favorite project was a beach clean up because I like the beach and I want to make it nice for generations after me to enjoy it too."
Leadership
Transition to High School, sophomore Leadership, and freshman leadership classes are coordinating a Holiday Canned Food and Clothing Drive for the month of December.

Students created donation boxes that were placed in the office and in all freshman and sophomore advisory classes. Students are encouraged to donate canned foods and/or gently used clothing.
Legacy Club
Before Thanksgiving break, the Legacy Club repainted areas of the school that were in need of a new coating such as railings and walls, but club president Brooke Delaforce wants to do even more for the school and its community.
"Community service is doing something good to help out in any community. Mostly in my experience, I believe we should have more community service that interests us and help us in our future," Delaforce said.
She also mentions that they are working on a school beautification project where they have plans to plant more trees next quarter. Delaforce emphasizes anyone can join in to help.
"You don't have to be in the club to participate," she said.
National Honor Society
One of the pillars of National Honor Society focuses on service. That being said, students are required to participate in 10 hours per quarter of community service to remain an active member. A recurring activity this quarter has been reading aloud to children at Makalapa Elementary school during TASK and lunch.
NHS president Kristine Namnama said she enjoys working with younger kids.
"It was very fun because we got to work with younger kids," she said. "After we read we usually do an activity and since it's almost the holidays our activities are holiday related. So for the first one, we made Christmas trees out of pipe cleaners and paper and then we made pop-up cards. The kids talk a lot which I enjoy a because I like listening to stories. While I was reading them a Christmas book, they just wanted to share want they want for Christmas and who they're gonna give the card to."
She added, "One of our readers is very tall so they were all very amazed. Also one of our readers told us that a girl came up to her and told her that she's her favorite teacher. The kids are just fun to work with."
NJROTC
"NJROTC does multiple community service hours like parking lot hours. Parking lot hours is where we wear our pole and cap and direct cars on where to go or park. We also have to wear a uniform every Tuesday and do flagpole. NJROTC is a good class to join. You get to learn leadership skills," Caitlyn Appel (9) said.
Spanish Honor Society
Caleb Purdum (12), president of the Spanish Honor Society, said he enjoys spreading the knowledge of foreign language and volunteered to convince others to learn.
"For community service this year we helped out at the curriculum fair, and helped encourage kids to take a foreign language, especially Spanish," he said. "The curriculum fair has so far been my favorite event, as we met many native Spanish speakers. It was a good, wholesome experience."