Brown Bags Showcases Talent
Performances for Radford's Brown Bags talent show took place in the gymnasium on February. Winners representing our school compete with other schools winners who won in the same category.
In the singing category, first place was awarded to Cerah Aurelio (12), who has been singing since she was three years old. Her love for music grew and she began performing and singing at her church. At Brown Bags, she sang 'Note to God,' a song about world peace.
"[Winning] still doesn't feel real," she said. "I've done Brown Bags for three years and the first time I got second. The other time I did it and I got first in the group category but doing things on our own is scary."
'Note to God' can serve many purposes. Aurelio sang the song to help her get through a tough time in her life.
"The last time I sang it was when my brother passed and it helped me and gave me hope," she said.
This time though, her inspiration was the Parkland shooting. "This song has a strong message to it and especially what was going on in Florida," she said. "I knew this song needed to be heard. I wanted the students to know we can make a difference."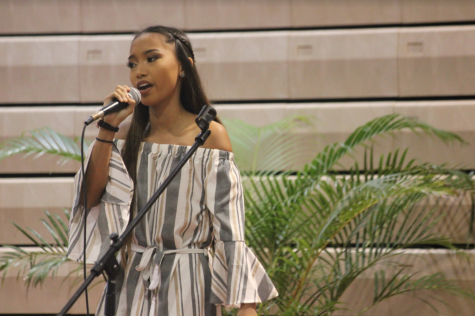 Second place was awarded to Julia Francisco (12) who has been singing since she was a baby and trained by her mother, who almost became a professional singer.
"I sang Piece by Piece by Kelly Clarkson," Francisco said. "On deciding what song to sing for Brown bags, my mom suggested I sang Piece By Piece in honor of my dad who passed away before this school year started."
Francisco had a very close relationship with her father.
"I just had a strong urge to sing a song pertaining to a father figure as suggested by my mother. I wanted to appeal to the audience who could relate to having father issues," she said. "Or just love, care, and appreciation for their fathers."
Francisco is proud of her achievement, as well as the achievements of her friends who participated.
"I feel pretty honored from winning second place," Francisco said. "Last year, I auditioned with two of my friends but we didn't make it through. This year, one of my friends who auditioned with me last year got in and sang Feelin' Good. We both feel pretty good about our achievements."
Singing is an important part of her life and she sees performing in her future.
"I plan to attend college in UTSA to major in Psychology, following my mom's footsteps. I'd like to become a psychologist or psychiatrist. However, I would also like to have a part-time job that involves singing."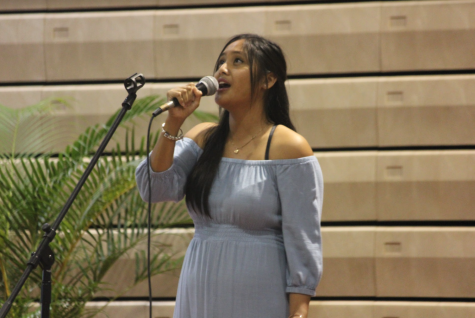 Alyssa Lacap (11) sang Feelin' Good by Nina Simone, as Francisco mentioned before.
She was inspired by Carly Rose Sonenclar, a contestant on a talent-based TV show.
"This girl I saw on X-Factor sang it and she was really good," Lacap said. "I just hoped to appeal to the judges by using a powerful song, showing my best."
She has had some experience in performing.
"I've been attending school talent shows since I was in kindergarten. I've been singing since I could probably talk but I've taken singing seriously since I was 10."
Although Lacap did not place, she is grateful for the experience.
"Attending the talent show was a great experience, even if I didn't place," she said. "I was able to make new friends and receive constructive criticism by other singers."
Though performing is a sight she looks towards in the future, she plans on continuing her education.
"I want to go to college and my parents have been encouraging me to attend televised talent shows after finishing my education," she said.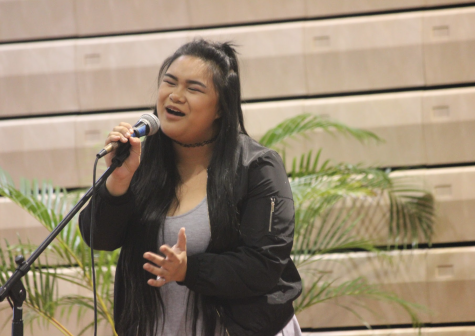 Lailona Holloway (12) sang Love on the Brain by Rihanna.
"I just wanted to pick a song that sort of fit my voice and a song I could put emotion into," Holloway said. "In my opinion, it was about loving someone so much that through anything and everything you love them."
Holloway has been singing for a long time.

"I have been singing since I can remember, I even did a talent show in middle school," she said. "But I never really had lessons or did anything big with singing."
"I plan on going to college and after that owning my own successful business."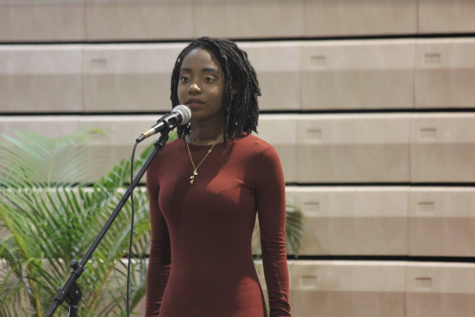 There was one performance that stood out from the rest which was a dance group. Ahvigahye Tate, Gelarni Elacion, Shanna Francisco, and Kalista Schoeman took the stage and danced to a mashup of songs they liked.
"We have been practicing every day for like two to three hours. My legs hurt really bad," Ahvi Tate said.
Tate, Elacion, and Francisco each chose a song they liked. Tate chose Bartier Cardi and they found a dance on youtube.
"The dance I saw was actually a dance from Guam," she said. "I really liked how it worked with the music so I chose the song."