Graphic Communications Students Place in National Poster Competition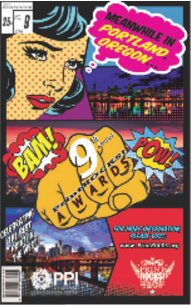 ed the 9th Annual 2016 PrintROCKS! National Poster Competition. High school and college students from Alaska, Hawaii, Idaho, Montana, Oregon, and Washington were invited to design posters to "Celebrate the Best Print in the West."
    Radford High School placed in the top four for the fourth year in a row.
    This year, students took four of the top five places.
    "We won more accolades, more recognition this year than other years," Graphic Communications teacher Lane Yokoyama said. "Right now, we're waiting to hear about the Benny."
    According to the Printing Industries of America website, only the most worthy pieces receive Awards of Recognition, Certificates of Merit, and the highest honor—the Benny statue. The Benny is a universally recognized symbol for excellence in the printing industry.