Competition Heats Up For Red Brigade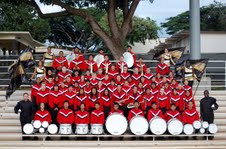 The campus' "Red Brigade" marching band is competing this season with their first competition in Kapolei on Oct. 27. Marching season spans from mid-October to the end of November.
Band holds practices twice a week for three hours and participates in the school's Pep Band where they perform for most games.
Band consists of about 80 students, all working day and night to make their formations perfect. Band teacher Mr. David Hirano and percussion adviser Mr. Cory Allen make sure that band members have their performance as ready as possible.
"I think that with a little more commitment, the band will achieve superior rating this year," said Jewelyn Garcia, percussionist. "If we work with people that really want to be here, then I think we'd be at our best when performing".
Section leaders make sure that their respective sections are competition ready. Their goal this year is to walk off the field with no regrets.
The Red Brigade Marching Band may be supported at the following dates and locations:
– Nov. 3: Kamehameha Tournament Of Bands @ Kamehameha Schools, Kapalama 5:30 p.m.
– Nov. 5: Oahu Marching Band Festival @ Aloha Stadium 5:30 p.m.
– Nov. 9: Rainbow Invitational Marching Festival @ Aloha Stadium 5:30 p.m.
– Nov. 10: Mililani Tournament Of Bands @ Mililani HS 5:30 p.m.