Looking Natural While Still Flawless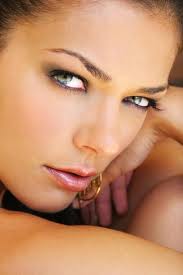 Wearing overpowering makeup can add years to your age and make you look like a drag queen. However, natural makeup or the 'no makeup makeup' look is very flattering on everyone. Why not try and look more like you?
The first step to the natural makeup look is achieving the flawless face. Whether you use foundation, powder, or tinted moisturizer having an almost flawless face is imperative to your look. If you have imperfections you don't want to hide them, but rather make them less noticeable. If you're using a tinted moisturizer or BB cream (beauty balm) apply it with your fingers. This will help the product to melt away into your skin, giving it a more natural effect, plus it's easier.
If you are one of those people who have to use brushes, that's fine too. Just make sure you blend well.
If you are using a foundation because you need heavier coverage, the same rule applies. Just make sure you blend. After applying the products, lightly dust powder over your face, setting the makeup, allowing it to last longer throughout the day and keep the shine at bay.
Some people inherit dark circles and others just develop them from a lack of sleep. If you had a late night and wake up to a raccoon in the mirror, have no fear. All you need is a good, brightening concealer. Garnier and Maybelline have some great roll on concealers that are easy to use and look great. Think of a triangle when applying under eye concealer. Make two upside down triangles under you eyes and blend them out. Your eyes should look brighter and more awake.
The next step is defining you eyebrows. This is option, but if you have really sparse brows it is almost necessary. You can use a matte eye shadow powder that matches your hair or pencil. If you use powder, lightly dust the powder over the hairs in small strokes, making sure not to create any harsh lines; remember, this is a natural look. If you use a pencil, make sure it is made specifically for browns. Do not use an eyeliner. A good drugstore-go-to would be the Maybelline-define-a-brow. It also comes with a comb which help you blend the color out through your brows. Again, make sure its blending to prevent no harsh lines for this look.
For this step, you have to think about your skin tone and what would look best on you. Blush makes anyone's face come alive adding color and you, but it can also create the wrong effect if you choose the wrong color. Add some blush to the apples of your cheeks for an instant brightening effect to your face. If you like, you could also just gently pinch your cheeks to make your natural color come out. Then, you can choose a blush matching this color.
The last step is, in my opinion, the most important. If all else fails, at least make sure you slap some mascara on your eyelashes. Mascara definitely makes a huge difference in opening up the eyes. Make sure to wiggle at the base to get a fuller lash effect.
Natural looking makeup is a play it by the ear kind of look. It's different from everyone. These basic steps should be good guidelines on how to look more awake and vibrant. However, less is more, so make sure to use a light hand when using products. If any one step is overdone, it can ruin your whole look. Use your own judgement and find what looks best on you.