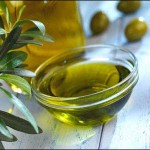 Olive oil is an ancient and natural beauty tool that has been used for centuries. Olive oil can give you healthy radiant skin creating a beautiful summer glow even in the winter time. Olive oil has many uses including dry skin relief, shiny soft hair, and even supple soft lips.
All you have to do is reach into your cabinet and pull out the liquid gold. Olive oil can be used on your nails to get rid of torn cuticles or brittle nails. Just get a bowl and fill it up until your nails are submerged in oil. Sit back, relax, and saturate for about 10 to 20 minutes.
Got dry or cracked feet? Before you go to bed apply a generous amount of olive oil and cover them with socks. When you wake up, your feet will be amazingly soft. This works for hands too. Just wear gloves instead of socks.
You can apply olive oil as a face mask as well. All you have to do is mix olive oil along with honey and yogurt. Mix until well blended and apply to the face. Leave it on for about 15 minutes and then rinse with warm water.
Story continues below advertisement
A great trick for olive oil is to dip your ring finger in a little olive oil and apply to the lips. Be careful and don't use too much. Your lips will be smooth and supple in no time.
Olive oil can also be used to treat dry, damaged hair or dandruff. Warm several tablespoons of olive oil and rub into hair and scalp. If your hair is known to be oily this may not be a good idea. Put on a shower cap (plastic bag is fine too) and leave in for 20-30 minutes.
If you have dry skin, olive oil will become your best friend. You can apply olive oil anywhere that just needs extra moisture like elbows, hands, and knees.
Shaving cream isn't always around but olive oil can take its place. Slather on some olive oil and shave away.
My personal favorite olive oil beauty tip is the moisturizing soak. You can put a small amount of olive oil in your bath, about ¼ cup, and your skin will be amazingly soft and smooth when you get out. You can also use it as a shower gel if you don't like baths.
Olive oil promotes smooth and radiant skin and its rich in antioxidants including vitamin E, it does wonder for your skin. It helps protect against free radicals, which accelerate the aging process. Here's another helpful tip, the next time you're enjoying a healthy salad, drizzle on some olive oil. The antioxidants will help you on the inside as well. When purchasing, try to get the Extra Virgin Olive Oil because this comes straight from the olive. It's more natural and is full of antioxidants.The next time your skin needs a little pampering, give olive oil a try.