Rams Find Forever Friendships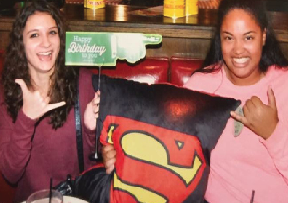 Enduring friendships at Radford are usually short-lived because a third of the student body moves away each year, yet that doesn't stop individuals from meeting and keeping their forever best friends.
Sophomores Madeline Kellett and Anna Fuller have been friends for over a year after working together in their freshman English class.
"Everything changed the day [English teacher] Mrs. Baze assigned the assignment," Fuller said.
Since then, Kellett appreciates that Fuller is "really chill, and she doesn't bother me all the time."
Fuller reciprocates the appreciation.
"She lets me nerd out and bug her about cosplay stuff without hating me," she said.
While it may not be the ideal condition, some friendships do start under adverse circumstances.
"We started off hating each other, but then we found a common ground at the end of 6th grade and been friends ever since," Rainelle Riggins (10) said about her best friend, who has since moved away.
Longtime best friends are     seniors Madison McHenry and Jada Moody whose friendship came about six years ago.
"We met at [Aliamanu] Middle School in science," McHenry said. 'We realized we were best friends after talking all the time."
When the dynamic duo aren't at the movies together, they have weeklong sleepovers during school breaks. There is nothing the pair does not know about one another.
Moody said that her friendship with McHenry is a case of opposites attract.
"I'm sarcastic and she's not," Moody said.
But, "we complement each other," McHenry said, finishing Moody's sentence.
McHenry plans to attend the University of Nevada at Las Vegas and Moody will possibly enroll in a college on the opposite coast. Yet, the pair intends on staying in touch during college. They said they plan to make time during breaks to visit each other in Nevada and Florida.
Riggins also manages to keep her friendship alive, even after her friend moved away.
"I think our friendship is stronger because we can see that we are still able to be friends, even though we're apart," Riggins said.
Friendships are not limited to strangers. Cousins Sua Ala (10) and  Drue Ala-Peahi (12), share a connection beyond their family ties.
"[Sua's] mom took care of us when we were little," Ala-Peahi said. "But, we still connect with a lot of things."
"We do everything together. We train together for football. We always got each others back," Ala said. "We're like brothers."