Career Day Offers Insight, Reality
Cosmetologists, firefighters, television producers, news anchors, fashion designers, dancers and choreographers, zoologists, marine biologists, photographer, pilots, flight attendants, intelligence analysts and linguistic experts, civil engineers, law enforcement officers, personal trainer and fitness consultant, mechanics, lawyer, graphics and media designer, hotel management personnel, fashion merchandiser, medical doctors, judge, chef, educator, physical therapists, architect, registered nurse, criminologist, social worker, and an event planner converged onto Radford's campus on Nov. 18.
Up to 62 Career Day speakers representing a multitude of fields shared their experiences with the school's student body. Speakers presented five 35-minute sessions to
Speakers shared personal experiences, including education, and skills necessary in their respective careers. Presentations described daily routines,  pros and cons, and how they built themselves in high school and college to reach their career, in order to provide students a realistic understanding of the field. This allowed students the opportunity to ask questions many websites can't answer.
Some students felt they benefited from the candid aspects of the job, even if the career sessions may not have been their first choice.
"Even though I got guest speakers I didn't want, … I still learned a lot from them. [I learned that] even if you go to community college, you can still work as a judge, lawyer, doctor, or technology operator," Kalani Orr (12) said.
Many other students also learned about steps to take to reach their desired job. They have more opportunities to ask someone with personal experience about the challenges and steps that you take to reach the career.
Alex Acosta (11) said that he thought that "the aviation mechanic seemed to be the most realistic. He explained the requirements to get his job, that you have to start off as an apprentice, and then a craftsmen. You are expected to do stuff on your own."
"This year's career day was a very interesting. I have learned many things that my guest speakers. Career day is created for students to get insight of a job that they would like to do after high school. One of the things I have learned from this year's career day was that a lot of the jobs out there require me to be very flexible, very reliable, very hardworking, and sometimes very stressful. This is very useful information for me to have and to think about when I apply for a job." Ransom Kauwe (10)
Career day helps students discover new careers, in which high school courses can prepare them for, and how they can avoid unnecessary challenges along the way with the help of career day visitors.
In preparation for Career Day, students completed surveys such as the RIASEC, which matched them up with one of five career pathways such as Public and Human Services;  Arts and Communication; Business;  Health Service; and Industrial/Engineering Technology. Each pathway hosts possible careers students may be interested in. Project ARIES organizers worked behind the scenes to create schedules matching students' career pathway interests to the speakers.
Discovery Center and ARIES organizer Cindy Schrock explained the effort put into Career Day.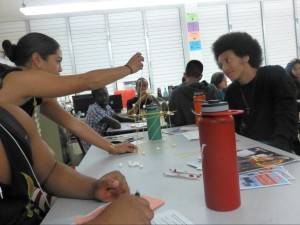 "[CCRC assistant] Mrs. Guerrero and I worked together from the beginning of the school year to organize this. [It] required a lot of time and organization to select [and organize] five of the eight selected sessions for 1,350 plus students," Schrock said.
To improve the quality of career day each year, they have a debrief meeting.
"We have all faculty and staff give feedback on how we can improve the next project ARIES  week," she said. "Career day is only one part of project ARIES that we focus on improving."
The team also has to focus on tackling many other events to help students "think and plan for their future, and make wise decisions about courses to help them achieve their personal and career goals", such as with the curriculum fair.
Schrock also pointed out how lucky Radford is for the experience, once which many other schools don't have.
"I'm not sure if our students realize the wealth of knowledge and wisdom that is available all here for them in one place on one day," Schrock said. "Our students have a golden opportunity every year to speak with amazing people in so many careers, and I hope that our students realize how great of an opportunity this is for them each year that they are here with us at Radford."