Librarian Shares Love for Traveling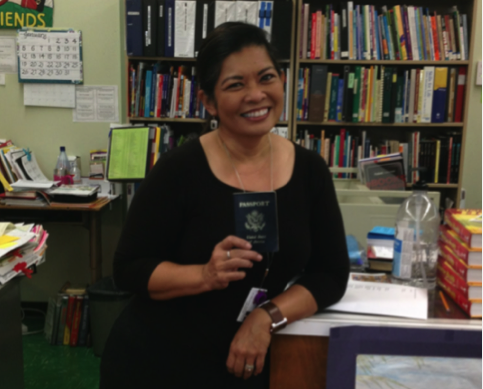 After teaching for over seven years at Radford High School, Beverly Vallejo-Sanderson's role as an educator evolved to one with the potential to reach out to an entire school.
Vallejo-Sanderson graduated from Farrington High School and went on to earn three degrees from the University of Hawai'i. Her first, a bachelor's in Journalism with an emphasis on Communication, followed by a Professional Diploma in Secondary English Education, and lastly, a master's degree in Library and Information Science.
Despite her different positions, former English teacher Vallejo-Sanderson has managed to remain in education, most recently, as the school's librarian for the past 12 years. She fulfilled her student teaching at Farrington High School and taught summer school there. During the summer she also taught at Hawaii Baptist Academy and Mid Pacific Institute. She also taught English at Kailua High School and Waimea High School on Kauai.
"It was a natural progression to work in the library," Vallejo-Sanderson said.
Her favorite aspects of the library are her interaction with the student body, teachers, and other staff on a daily basis, and the technology. "I think if you love words and ideas," she said, "then working in the library would be a breeze."
She also has taken on the dual role of advising a club that coincides with her favorite past time. She said that she loves to take students on trips to other countries to share her love of traveling. She has chaperoned students to England, France, Italy, Greece, Germany, Austria, Switzerland, China, and Japan.
Among all her travels, she said that her favorite country is Italy for the food and architecture. Having visited most of Europe, China, Japan, Korea, the Philippines, Central America, Canada, Alaska, and all over the United States, Vallejo-Sanderson said, "I've traveled so much, I've had to add pages to my passport."