Varsity Tennis Season Ends, Players Leave with High Hopes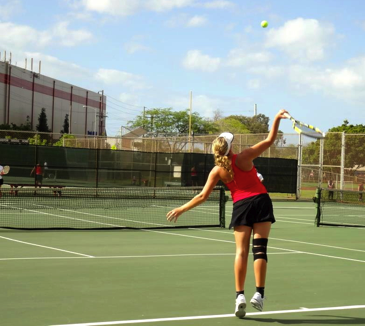 The boys and girls varsity tennis teams wrapped up their season when the boys lost and the girls won to Campbell on March 30.
At their first game both the girls and the boys faced and lost to Waipahu High School. They went on to challenge  West Division high schools like Waianae, Kapolei, Leilehua, Aiea, Mililani, Waialua, and Pearl City. They played their final game against Campbell.
The boys won against Waialua but only by default.
The girls won against Waianae, Aiea, and Waialua.
During the Oahu Interscholastic Association tournament which took place April 11-12, junior Sylvia Brummitt went on, however losing, in the next two rounds.
"I think the season went great. This was a great team, but there's room for improvement. I'm blessed to have a good coachings staff to help me along with it," Raymond Badayos, first year tennis coach, said.
However, the season was not without mishaps. "My obstacles were making the team work on their game and building a solid foundation for the team. Most of the team was their first time in varsity so they had to improve on many things," Coach Badayos said.
When thinking about the future of the team, Coach Badayos said, "I hope it gets to the point where people go to Radford just for tennis. I want the team to represent and be remembered as a team with respect."
"There is never a moment in my life where I will not want to get better…even when you lose or get put down, you have to keep going. Because that little bit of extra effort takes you everywhere." Hanh Pham, sophomore and tennis player said.
"It's bittersweet…I made new friends, built a strong minded team, and was able to have memories that I'll never forget," Christian Dela Cruz, senior and boys captain, said.
After their last game the team had a "Senior Day" and celebrated with activities and food.