Yokoyama Wins Printing Competition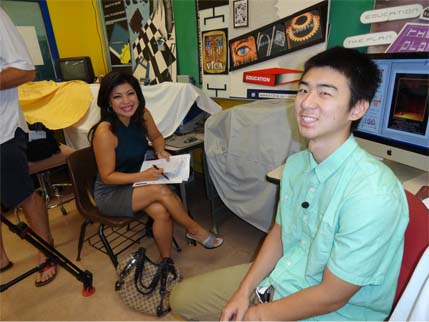 Andy, Reporter
May 17, 2013
Senior Tyler Yokoyama won a Certificate of Merit in the 2012 Printing Industry of America contest. Yokoyama submitted a poster for the 13th Annual James Alegre Invitational Basketball Tournament.
This competition generally has submissions from companies and design firms. According to Tyler's father, Mr. Lane Yokoyama, he said, "For us to earn his award is really special. Tyler and I were both very surprised when we realized his poster was chosen to receive an award."
Mr. Yokoyama said that when he was first notified of the news via email, he thought it was spam. "We found out when I was checking my emails. One said, 'You're a Winner!' I almost threw it away, thinking it was junk mail. I saw who it was from, and thought 'I better check this,'" said Mr. Yokoyama. "Good thing I did."
"I felt excited and surprised when I found out I won," said the younger Yokoyama.
Around 2,800 entries were submitted worldwide. The award is said to be given to those who demonstrate a unique ability to create visual masterpieces, which represents the unique partnership between designer and printer, need and creativity, and technology and craft.
"As a teacher, it validates what is being taught in the classroom/laboratory. As a dad, I am very proud of my son. He put in the time to create a wonderful poster that captured everything Coach Alegre would have wanted," said Mr. Yokoyama. "To be recognized by the contest is quite a feat. I think we are the first school in Hawaii to do it. I was informed that there was over 2,800 entries in our category. It is still kind of hard to believe."
Tyler's said he plans to major in auto mechanics at Honolulu Community College.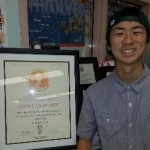 Yokoyama claims prestigious prize in design. Watch the KITV coverage on Yokoyama's update.