Seniors Ponder Post High School Plans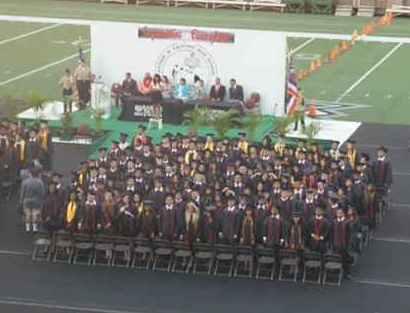 While 293 seniors can't think past this evening's commencement, many already know what their post high school plans will entail. This includes joining the military, attending some type of school, or finding employment.
Mrs. Malia Kau, the College Career Resource Center (CCRC) counselor, assists seniors with information on college, such as tuition and high school classes they to take for admission into the college of their choice.
"Seventy-percent of students have chosen to attend college after high school," Mrs. Kau said. "Last year there was an increase of 13 percent of seniors joining the military. Fifteen percent of seniors last year were undecided upon graduation. A survey was passed out to all senior advisories on April 23 asking the seniors if they know what they're doing after high school. My goal is to have 100 percent of all seniors know what they will be doing after high school."
Senior Jamarius Robertson, a recent transfer student from Tennessee, is planning on attending Full Cell University in Orlando, Florida. Robertson, received a scholarship for $30,000. He wants to produce music and become a rap artist. "It was the first school to accept me, and I also got a two year scholarship from them."
"I figured I can get a record deal faster," said Robertson. "I want to go to Florida because the weather there is beautiful, and there are plenty of beautiful girls there."
Robertson's interest in music began early. "I was rapping since I was in the third grade and it came easy to me. So why not?"
Senior Tori Taylor plans on attending Kapiolani Community College.
"They have a good medical program and I want to become a radiologist," Taylor said. " Radiology has to do with x-rays, ultrasounds etc." "I want to go to Kapiolani Community College because it's cheaper than other four year universities. I don't want to go school in the mainland because my parents are here in Hawaii, and I want to stay close by them."
Another senior, Wynona Sugiyama, has plans to return home. Sugiyama will travel to Palau to see her family for the summer. Afterwards, she plans to join the military, either the Air Force or Navy.
"It won't be hard to decide which branch to join," Sugiyama said. "It all depends on my ASVAB [Armed Services Vocational Aptitude Battery] scores. I plan on going to school while I'm in the military. I want to go into pharmacy. I'll get to help people and I'll get paid good money."
Byron Suetos, a senior, is going to attend Honolulu Community College . "I want to go to HCC because I don't want to leave the island yet," said Suetos.
An inspiring architect, Suetos said that seeing the different types of buildings all over the world inspired him. "Architect is all about design, and it's also about the interior and exterior of a house. I also want to become an architect because I want to build my own house. I would build my house in Washington state because I love the weather over there."