Homemade Smoothies Contain Flavor at Half the Price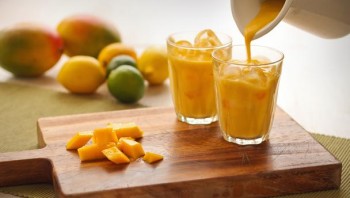 Getting a smoothie after school is one of my favorite things to do, but the cost of it really adds up.  I usually spend anywhere from $5 to $8 each time I go to Jamba Juice. Now multiply that that by two or three and you can see how expensive it really is.
To solve this financial dilemma, I came up with a solution: homemade copycat Jamba Juice smoothies. All the delicious flavor, but for a fraction of the price.
Their Aloha Pineapple, Banana Berry and Caribbean Passion can be made at home for less. Smoothies are a great way to get your fruit servings for the day.
One of my favorites, Banana Berry, is tasty and super easy to make. All you need are:
12 oz. apple juice
1 cup of bananas
1/2 cup of blueberries
1/2 cup of frozen yogurt (or plain yogurt)
1/2 cup of raspberry sherbert
1/2 cup of ice
Combine all of these in a blender and blend away!
Another one of my favorites is Mango A-Go-Go, which is packed with yummy fruit and is easy to make. All you have to do is combine 12 oz. Mango-passion juice, 1-1/2 cups of mangoes, 1 cup of pineapple sherbet, and 1 cup of ice in a blender and blend.
There are many online blogs and articles dedicated to copycat recipes. If you want more recipes, go to PinnedBydani.com