Rams Support Breast Cancer Awareness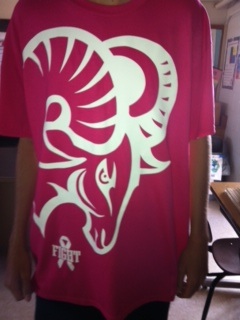 Junior Jack Buchanan dons a ram emblazoned pink shirt for Breast Cancer Awareness.
"Three weeks ago, Mrs. [Elizabeth] Patton told us about the pink shirts," said Buchanan who bought the shirt for $14.
On Oct. 26, students and faculty were encouraged to wear pink to raise awareness for breast cancer. Noon hour activities were held at the outdoor stage where students were invited to play games, represent their grade level class and win prizes.