Graphics Students Place in 2012 International Aviation Art Contest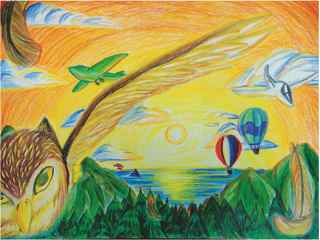 Three Graphics Communications students took first, second, and third place in the 2012 International Aviation Art Contest State Winners.
First place went to senior Jammie Lee Go for her work titled "Golden Silence."  Madison Kemp's, freshman, piece titled " SSHHHHH…" took in second place and junior Faith Henry placed in third with her work "Jet Stream."
Students had to visually communicate the "Silent Flight" theme using multiple media on paper. Radford High School swept this year's High School Division at the Hawaii state level. Their Artwork competed at the national level in Washington DC although they did not place.
They will be receiving a certificate and savings bond at a reception to be announced.
"I am extremely proud of the effort and passion for graphics that our students displayed in creating their visual concepts," said Graphic Communications teacher Lane Yokoyama.