AVID Tours UH Manoa Campus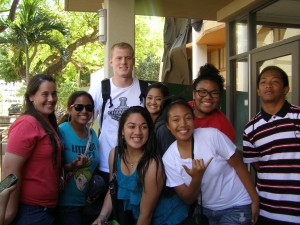 After AVID underclassmen took a campus tour of the University of Hawaii at Manoa, they ended their excursion with full stomachs and photo opportunities with UH athletes.
Cristiana Garcia, freshman, said that she and her classmates were trying to complete their scavenger hunt assignment.
"We dared Kennedy [Johnson] to ask if he would take a picture with her since she was tall like him," Garcia said.
Only later did they realize that he was UH men's volleyball player #13 Taylor Averill.
While eating at the dormitory cafeteria, another group of students spotted UH quarterback Taylor Graham dining alone.
"He was really nice. He was about to leave but he made time to take pictures with us," freshman Leleo Bane. "I feel bad for him. He got up five different times to take pictures with everybody."
As part of the AVID curriculum, students have opportunities to visit local college campuses before their senior year. University of Hawaii at Manoa is the first college tour  for the freshmen and sophomores.
With the Manoa campus sprawling over 320 acres, sophomore Tyler-Rae Gante said that she didn't realize the size of the campus. "It was really big," she said.
Led by UH student guides, students were led on a one-hour walking tour of the campus before going an additional hour tour of the dormitories. Freshman Feru Seumalo said that he learned there is no curfew in effect at the dormitories.
With a student population of over 20,000, freshman Damian Dumlao said that he was surprised to see a range in age on campus. "I saw young students all the way to senior citizens."
Boasting over 200 degree programs, freshman Amanda Saragosa said that "you can have two or more majors from a variety of choices to major in."
Khailie Parinas, said that she was surprised to learn from the student guide who led her group around campus that the average lecture size class has between 200-300 students.
Its in-state tuition and fees are $9,100 and out-of-state tuition and fees are $23,932. Interested seniors can apply to the school by May 1;  the application fee is $70. Students must also have SAT scores of 510 (critical reading), 510 (writing), and 510 (math) or ACT score of 22 in each section.