College-bound Seniors Encouraged to Apply for CTE Scholarship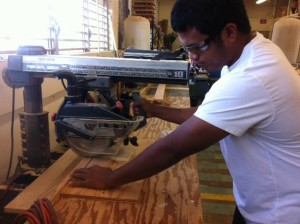 It's that time of the year when the Career Technical Education department will host their annual scholarship event.
In preparation for the fourth annual CTE Shines fundraiser, college-bound seniors in CTE classes are encouraged to apply.
Students need to be currently enrolled in a CTE course, maintain an overall grade of a B or better in CTE course, earn a cumulative 2.5 GPA and accepted to a post-high school institution.
Preference will be given to advanced level students.
Students must prepare for CTE Shines event by volunteering a minimum of six hours during the following dates: Feb. 11 (12 p.m.-3 p.m.), March 3 (12 p.m.-3 p.m.), March 10 (12 p.m.-3 p.m.), and March 13 (8 a.m.-11 a.m.). In addition, students need to participate in the CTE Shines event on Sat., April 14 for a minimum of three hours.
Applicants are responsible for submitting the following documents to college counselor Mrs. Malia Kau by April 5, 2012:
• Scholarship Application form
•  Narrative of the applicant's goals, reasons for pursuing these goals, and means of attaining them. Include information about financial need and the cost of college planning to attend.
• Short essay on why you feel you deserve the scholarship and how your services have benefited Radford and its community
• Two letters or recommendation from school or community adults not related to you; neither of the letters may be from CTE teacher
See Mrs. Kau or your CTE teacher for more information.