Luu Showcases Artistic Talent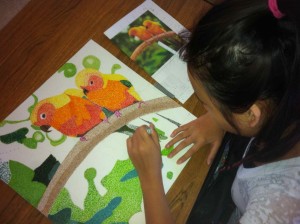 Junior Minh-Hien Luu's talent is evident in her drawings. She said that she likes to draw everything that she sees around her.
"I like to make the drawing active and that makes me happy when I can keep it," she said. "I'm interested in it and I just love what I do."
She learned how to draw at a young age. "I started to draw when I was five or six years old."
Recognizing her talent, her parents supported her by allowing her to take art classes. "My parents saw that and thought my drawing was a talent."
Luu spends about one to two hours daily to work on her art and usually completes her pieces in about three-four weeks.  She doesn't keep her artwork, though, giving them away to family members.
"During my freshman year I won a drug free design of Zippy's, but that's just a small prize," Luu said.
When Luu isn't drawing, she indulges in other talents. "I can draw and sing in my free time," she said. "Some people think I'm shy but I love to sing and dance. I also love to perform in front of people."
Despite her talent, she considers this only a serious hobby, and plans to pursue accounting in college.
Art teacher Ms. Patti Harrington said, "Minh is a hard worker and humble."
"Ms. Harrington helped me a lot. She is so kind and a nice teacher. She teaches me everything that helps me do better," Luu said.