Wasserman Copes Through Music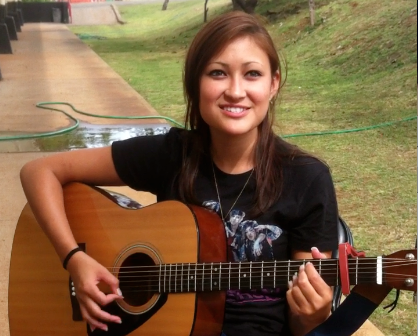 She can sing, play the guitar, and write songs.
Senior Amanda Wasserman heads to her Peer Education Program classroom every chance she gets, usually during lunch and recess, to play music, sing, and relax with other students.
"I like going to Mr. [Troy] Freitas' class because he's a really outgoing person and I like being around those kind of people," Wasserman said.
Wasserman has been playing the guitar for almost four years. "Playing the guitar makes me happy and some people like hearing other people sing for them," she said. "When they ask me, I sing for them. It's really fun."
"I like to sing mellow songs, acoustic songs," she said. "I like singing songs by Taylor Swift, Mayday Parade, A Rocket to the Moon, country songs, etc."
Wesserman said she uses music to cope with things. "In times when I need to cope, I drown everything out with music."
She uses her free time to sit down with her guitar and "think of stuff to write into a song."
Although Wasserman still considers playing the guitar and singing a hobby, "I have a show soon and I'm hoping to turn it into something more as a career or profession."
"Amanda is a very talented student," Mr. Freitas said.
Wasserman sings during a break in the Curriculum Fair