Movie Review: Kick-off your Sunday shoes, it's Footloose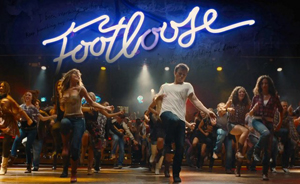 Ren MacCormack, a city kid from Chicago, moves to Bomont, a small town in Tennessee. He finds out that a fatal accident that happened a few years back shook the town with despair, but none more than the Reverend whose son died in the accident. After the accident, the town banished a number of teenage activities, including public dancing. Rebellious Ren MacCormack sets out to abolish the law of no public dancing and makes a few friends along the way.
The original footloose has a lot more spark and personality than the newer version. Although they did do a great job making the movie modernized, it just can't compare to its spunky original.
As far as characters go, the new Ariel is definitely not like-able. The original Ariel isn't like-able either, until you get to know her personality, and why she is the way she is. Julianne Hough does a good job portraying the attitude but it wasn't necessary for her to be so scandalous.  And for the character Ren, Kenny Wormald can't top Kevin Bacon's what we call now 'swag'.
In the new movie "Footloose," almost every scene can be traced back to the original. One of the scenes in the new movie is the racing scene. This is different because in the original movie they're playing chicken. Ren is challenged by Chuck, Ariel's boyfriend. Instead of using tractors like the old movie, they use buses. In the original movie, there was only Ren and Chuck, and they drove towards each other on the tractors until one of them became 'chicken' and jumped off. I think they should have stuck to tractors for the new movie, it gives it that small country town vibe; that's what the whole movie is about.
The new movie "Footloose" is an overall good movie. It doesn't compare to the original but it's still worth watching.