SkillsUSA Spruces Up Campus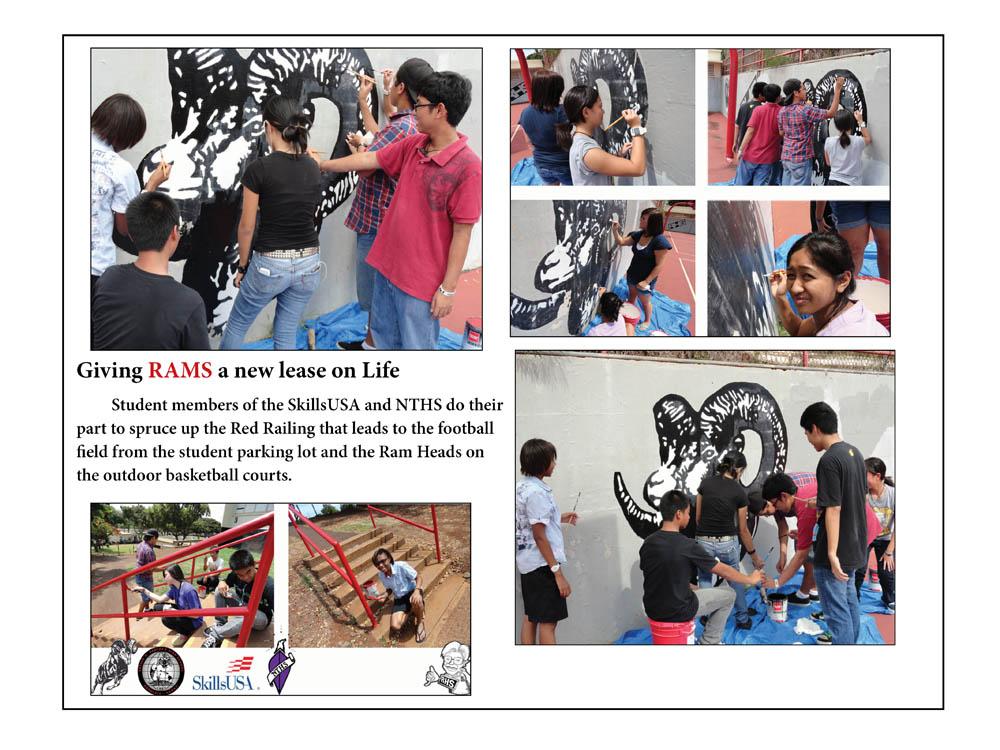 In the heat of the day, under the blazing sun, Graphics SkillsUSA Club and National Technical Honor Society members worked to enhance the school's basketball area. Students painted Ram heads on the walls of the outside basketball courts.
"Before we even started, we all agreed that the Rams were seriously ugly, and needed some serious work, big time. So all of us attacked the Rams with black and white paint," first year SkillsUSA member and senior Annie Huynh said.
Spending days into the project, the volunteers' efforts produced a quality final product.  "As part of SkillsUSA, I had volunteered as well as many other club members to spend my school afternoons to repaint the faded Ram heads for Homecoming," Huynh said. "It was definitely not easy, since we mostly had to use tiny brushes. The entire thing took at least a week, two to three hours a day. But, in the end, OCD took over the clubs, and as a result, the Rams were practically glowing."
According to its website, SkillsUSA is a national nonprofit organization serving teachers and high school and college students who are preparing for careers in trade, technical and skilled service occupations, including health occupations. It was formerly known as VICA (Vocational Industrial Clubs of America).
In addition to community service projects, SkillsUSA members also prepare for their annual spring competition. In past years, members have placed taking medals in state competitions and continued on to compete on the national level in Missouri. But members know it's not all work.
"We have a lot of fun in the club, whether it's going mini-golfing, playing laser tag, or just hanging out in the classroom playing Wii and eating pizza. Everyone is very friendly and social in the club so you won't have a problem fitting in," first year SkillsUSA member Alexis Ross, a freshman, said. "I suggest that you join too."