Seniors Dominate Spirit Week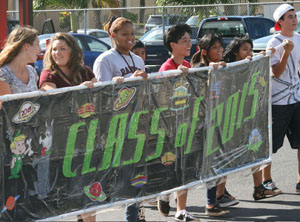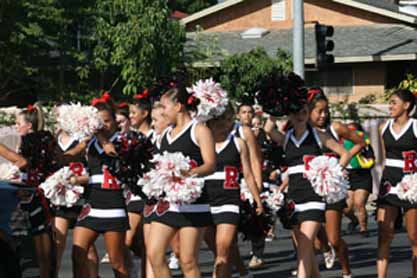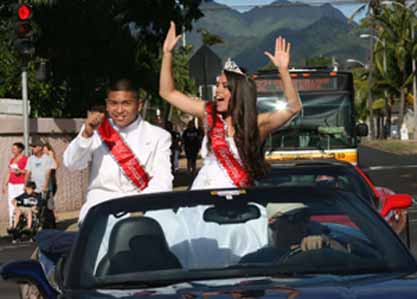 Color Guard members lead the parade with accompanying NJROTC cadets. This is the second year marching in the parade for junior Kyle Maluo. "It was a great way to show our school spirit," he said.

Leadership Class of 2015 show their class pride while they march in the parade alongside other clubs and groups.

Homecoming week was an opportunity for students to show off their school spirit. After months of preparing for this week-long event, leadership classes decorating bleachers, performed skits, and encouraged students in each of the grade levels to participate in dress up days and noon-hour activities. Leadership classes kicked off the week on Sept. 7 with a school assembly.

After presenting skits and yelling class cheers, seniors took the win, with juniors following in second, sophomores coming in at third, and freshmen finishing with fourth.

Each class created separated skits that coordinated with their different themes. Seniors chose Super Mario, juniors reenacted Scooby-Doo, sophomores focused on the Smurfs and the freshmen worked on the Jetsons.

With the help of the Color Guard, the homecoming court made their entrance. Court members include: freshman escort Mark Villejo and attendant Tessa Backer, sophomore escort Shane Davis and attendant Thea Mafnas, junior escort Kameron Paige and attendant Kristine Cajimat, and seniors King Jordan Mangoson and Queen Chaye Nowee Kauhola.

The schoolweek ended with an annual parade from the school's front parking lot through Foster Village. NJROTC led the parade and were followed by band, cheerleaders, leadership classes, SkillsUSA Graphics, Hip Hop Dance Club, Japanese Club and the Homecoming court.

Homecoming week culminated with a dance the next day at the the Officers Club on Fort Shafter, with almost 200 students attending.