Track Team Goes to Maui for States
Radford's track team features athletes of different skills, each and every one of them contributing a talent that makes the large team a family. Track is a sport consisting of not only of running, jumping or throwing, but commitment and fierce competition. These track stars have an unbreakable work ethic, driving them to exceed at all events they participate in. This drive pushes these athletes to greatness, as after May 4, they returned from Maui as champions.

As a sport that holds a variety of events, the team has the opportunity to stick with what they know and are confident in, or try something new to them.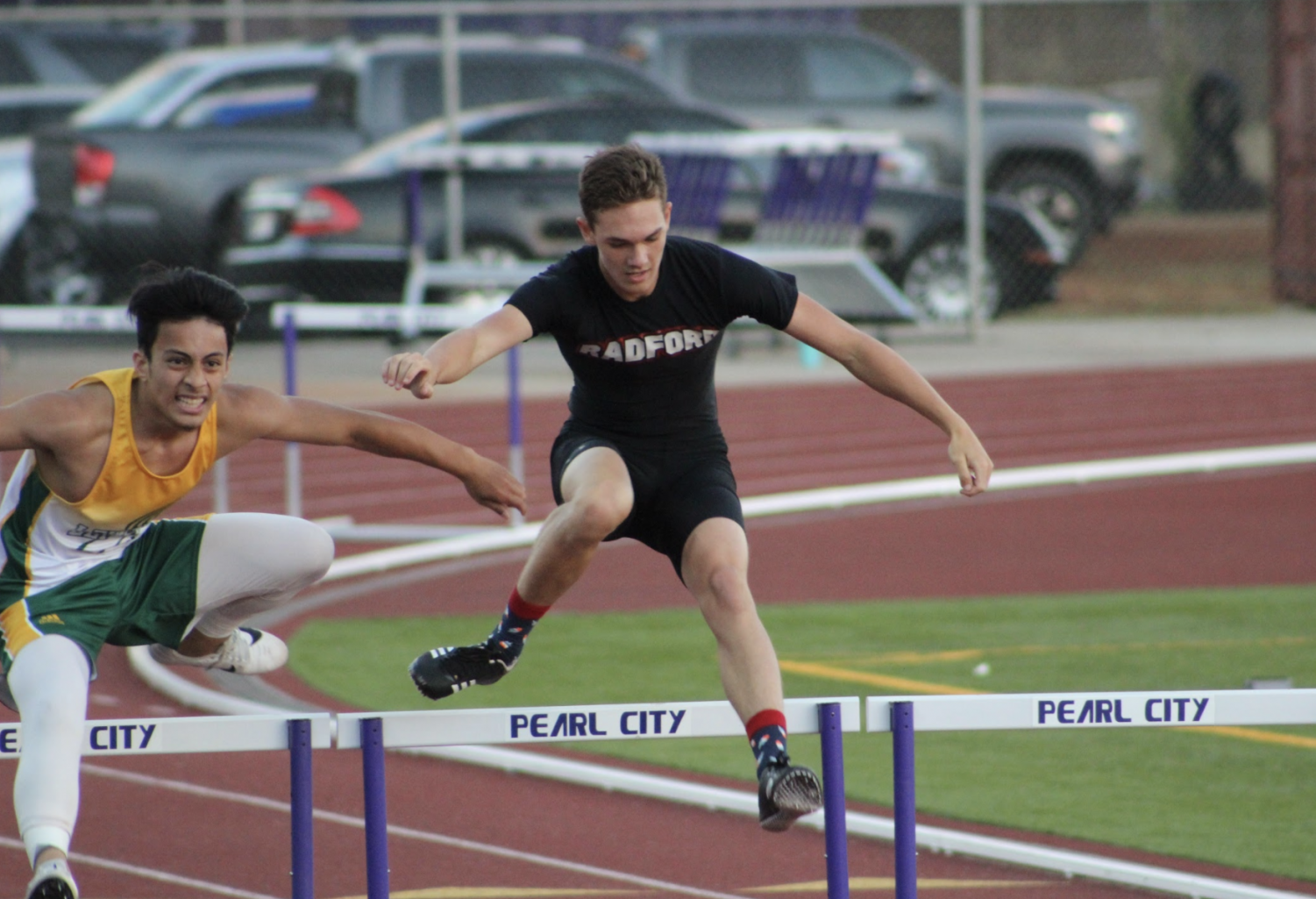 James Baptist (11) has been doing track for two years, first starting his freshman year and then picking it back up in his junior year. He does the metric mile, or the 1500 because, "it's a perfect mix to me of speed and strength. I love that."

This year, he decided to take a leap into an event completely new to him—the pole vault.

"I just started doing it this year and it's just really fun to do," he said. "It's kinda scary at first, but once you get up there, and while I'm not super up there yet, it's really fun to fly through the air."
Despite being new to pole vault, during OIA Champions, Baptist gained a new personal best of 10'6", a 4 feet difference from his starting height at 6'6".
When it comes to track, these athletes need to be ready for anything. There is a variety of events for them to take their chance in, but every athlete has a limit, whether it is physical or mental.
"You never know what the workouts are going to be each week and you have to have the mind set. You never know if it's going to be easy or challenging." Franklin Scott (11) said.  "Getting your mind ready, physically you can go out there and compete but you need to have a good mentality."
For Jon Daniel Guerra (12), a second year track athlete, overcoming barriers is the most difficult part of track.
"It is really hard to be great at track because you need to learn to get comfortable in uncomfortable situations." Guerra said. Even though mental barriers are one of the biggest challenges an athlete must face, "Our coaches do an amazing job at putting us in uncomfortable situations and seeing how we react and overcome the adversity placed in front of us."  
Most athletes pick their first events off of what they believe will be the best for their skills, however, a big part of being apart of the team is being open to change. The head coach, Coach Patton often observes different athletes during practice and then recommends events that she thinks will suit their athletic skills the best.
"She has this power where she can tell what event a person will be good at. She'll suggest an event to a person and next thing you know they're actually very good at that event." Kristine Namnama (12) said. With her main events being hurdles at first, she focused on the skills it took to do the 100 and 300 hurdles. "Coach Patton just suggested that I should try long jump so I did."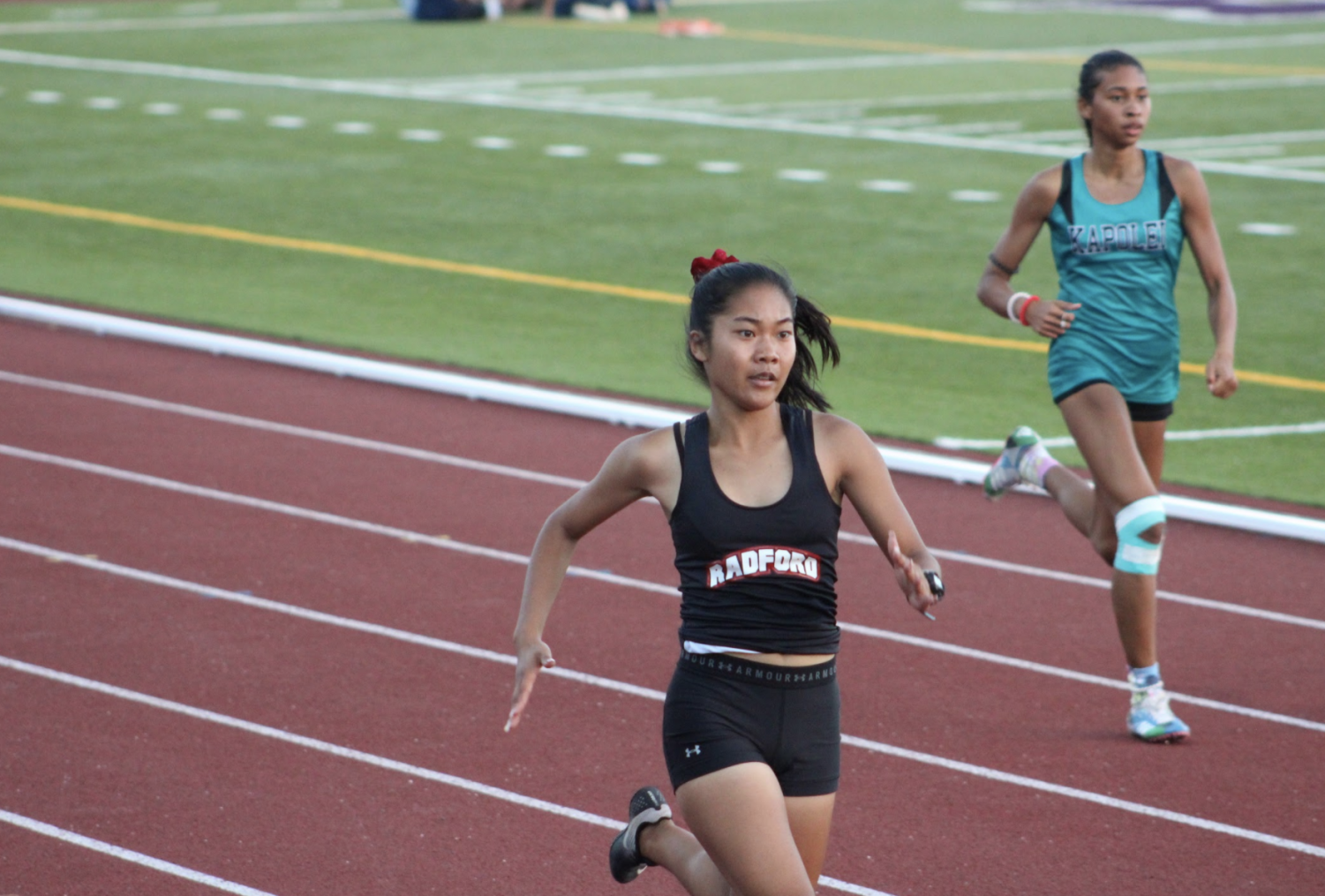 The track team brings together multiple different athletes who wish to do their best in the season, and they all enjoy the team for several different, yet also similar reasons. The people, the coaches, the general feeling the track team provides sets it apart from other sports on campus.
Tavian Bryant (12) said he enjoys "the unique feeling that the track team and track as a sport provides. Although you personally can only get yourself as far as you take yourself, everything you do still helps the team. Whether that be by providing motivation to others or by doing good in your event to increase the team score at a meet."
Bryant has done all of the jumping events, but considers his main event to be long jump. "I chose these events originally because I wanted to do something different besides just running and a close friend said I should do jumps. That's how I got into three main jumps."
With so many competitive athletes in one place, the tension to be the best could be high risk. However, when it comes to the Radford team, they see their teammates as family.  When it comes to describing their team, family is usually the word that comes up when these dedicated athletes talk about their teammates.
"I think it's how big the team is that makes us a little closer." Guerra said. "I love my teammates like family, regardless of how many people there are. It's funny because at the beginning of the season we have SO many people come out and everyone is like extended family. Then as the season goes on the team gets a little smaller and smaller and the extended family becomes closer and it becomes our own little immediate family."