Boys Volleyball Does Their Best on the Court
With strong dedication, commitment, and love for the sport, boys volleyball is driven to play their best under all circumstances. As most of them have been on the team together for years, they have built a strong bond and grown in character alongside one another, motivating one another to push their abilities to the next level. Even the players who are new to the team grew comfortable with each other rather quickly, comparing their relationships to a brotherhood.
Andrew Pongo (12) has been playing volleyball for three years, but this was his first at Radford. Despite being new to the team, their mutual love of volleyball sparked a friendship, and he was pleased with the way the team was organized and motivated, which contributed to their successes.
"Volleyball is a pretty fun sport to play," Pongo said. "Especially Radford volleyball, everyone is really chill and nice. They'll take care of you."
Ralph Caguioa (12) agreed, and said, "Everyone in this program will always support you, always be there when you need them, and especially make you laugh when you're having a bad day. I believe we have a really strong bond like no other."
The team is lead by Coaches Christine Christe and Melanie Toloumu, along with the three team captains, seniors Jude Pauulu, Micah Sala, and Ehven Marques.
The captains have been playing volleyball at Radford since their freshman year, and have grown in character alongside one another making them exemplary players for the rest of the team. Each of them play an important role in leading the team to victory.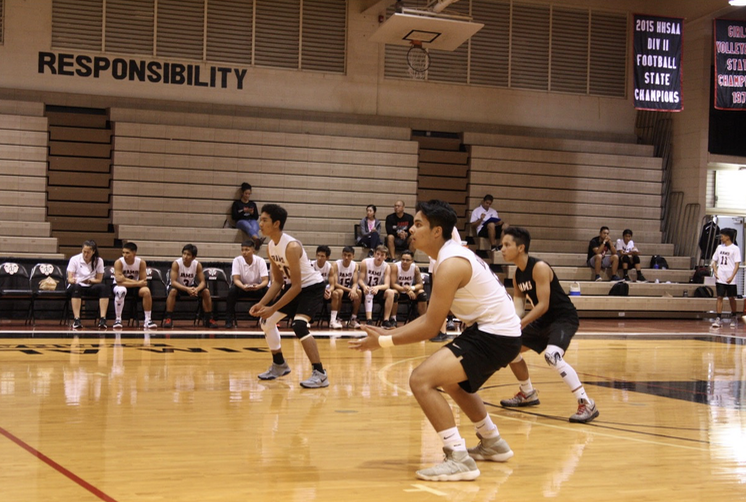 "Coach explained it as a team, we travel as a pack," Sala said. "I believe that there are three captains who have three roles. We all lead differently, we need all angles of leadership. I lead from the front to help the team to help the confidence boost and people who have less experience to forge the way to follow. Jude [Pauulu] is the leader from the back he doesn't lead with his words not as much as his action and will not allow anyone fall behind and won't necessarily asses the team as a whole but will help individuals. Ehven [Marques] is the middle of the pack he is very intune with how the team is doing and when some aren't doing well he'll be there for motivation and encourages them and runs side by side with them."
Pauulu has been playing since his freshman year and has proven his loyalty through the years.
"I believe I am someone who can be depended on," he said. "Meaning no matter what situation that is going on in the court, my teammates can still depend on me to swing away or block any ball that comes to our side."
Marques believes he was chosen as a captain not only because of his love of the sport, or the "art" as he described it, but because of his devotion to make each game better.
"It's not just about the game, it's a mindset," he said. "It doesn't matter where we're at in the game, I'll still fight for us. I would never throw the towel in just because of the scoreboard. If there's just one more point to fight for, then I'm fighting for it."
Playing with a conscious effort, the boys varsity volleyball team ended their season with an even score of five wins and five losses. In spite of their shortcomings, the team had a blast this season.
The team isn't thrilled with their "so-so" outcome, but despite the score, they enjoyed the season.