Lady Ram Welcomed onto Baseball Field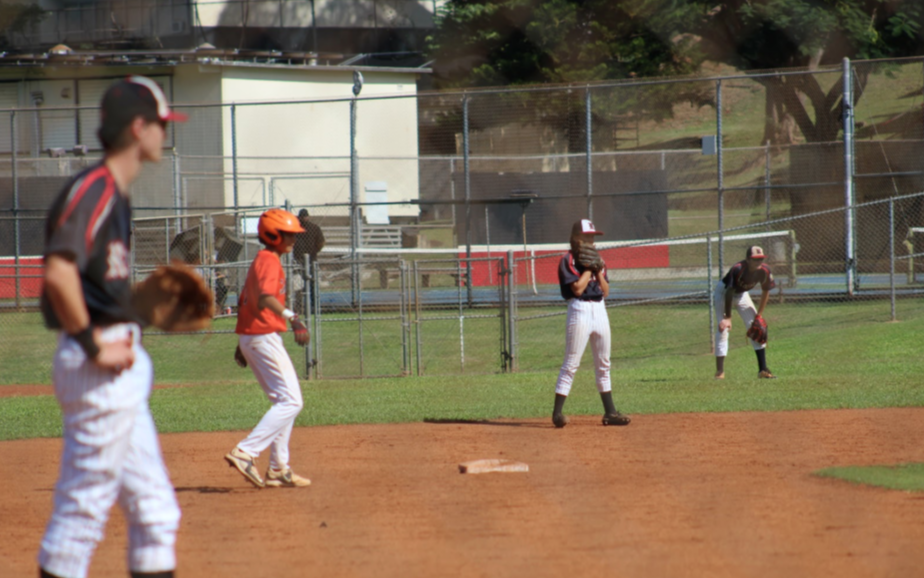 This year's JV baseball team breaks tradition as they introduce a Lady Ram onto their field.
Nohealani Akana (10) joins the team playing at second base, right field, and left field. Akana has been playing baseball for 10 years after her love for the sport sparked at five years old. When she was a freshman, she joined the school's softball team because of the impression that girls weren't allowed on the baseball team.
Generally, softball is only offered for girls. However, Coach Jacob Sur says that anyone male or female can try out for baseball.
"When Coach Jacob Sur told me that I should give it a shot I was so psyched," she said.  "I was happy to hear that I made the team."
"Nohea is someone who loves to play baseball," Coach Tom Tereschuk said. "She's on the softball team, but I think she likes to play baseball more than softball." Akana also plays on the school's softball team.
Coach Jacob said Akana "showed that she could handle that aspect and contributed to our JV team this season."
To join any sport, athletes have to be dedicated and willing to go through grueling hours of practice. Before her season started, Akana had to show her love and commitment to the sport and school, according to Coach Jacob.
"If you can do that, then there is a spot for you on the team," Coach Jacob said.
Of course, there is more to being on a team than just having a passion for the sport. The baseball team participates in practices such as weights, agility, and conditioning, proving they have the skills that are outside of the sport itself.
With a love for baseball and a passion to prepare herself for softball, Akana addresses the differences between the two sports.
"Some challenges are the hitting and running. It is totally different from softball. The base path is longer and the pitches are coming faster," she said.  "They all know that I'm pretty slow."
While Akana deals with the physical challenges, she also works against emotional difficulties. According to Akana, she finds it "hard to adjust to, but with the support, I have from my family and friends I know that I'll be just fine as long as I'm doing what I love."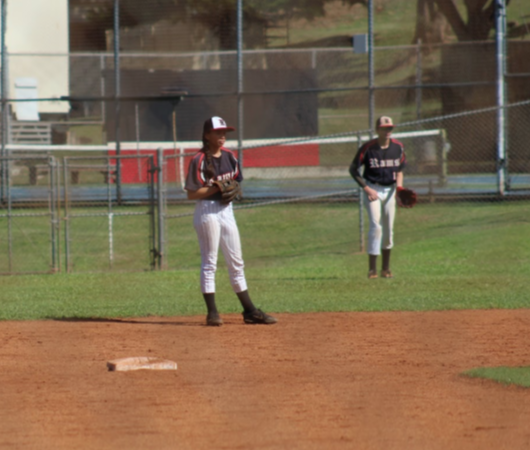 Despite these issues, Akana is welcomed to the team as 'one of the boys.'
She said, "I bring the same thing they do, which is 100 percent effort. We are committed to excellence and we want to succeed and better ourselves."
She uses feedback from Coach Jacob, and she says that it "is really helpful and is gonna make a difference in JV baseball season and the upcoming varsity softball."
"In the preseason she showed that she was hungry to learn," Coach Jacob said. "We as a coaching staff wanted to give her the opportunity to push her beyond her limits."  
As the sole female on the team, an obvious difference would seem very dividing between Akana and her teammates. Despite this, Akana views her team as "my second family."
"We play really well together," she said. "I'm really happy that I have them in my life and I get a chance to play with them."
The team is treated as one, with no special treatment for any of the players, including Akana. The only special treatment any player on the team is given is extra help for improvement.
"Some players on the team ask Coach Jacob if he could help them with their hitting. That's not special treatment. It's just players that want to better themselves when they're on the field," she said.
Coach Tom acknowledges how Akana's qualities improve their team.
"We wanted Nohea to join the JV baseball team because we don't have too many players. Only a total of 11 counting Nohea," Coach Tom said. "Radford, for various reasons, just does not have very many kids that have the sport specific skills necessary to compete successfully in baseball."
They wanted Akana on the team for this reason.
"She adds a lot because she can play second base or outfield very well. And she can swing the bat pretty well too,"  Coach Tom said.
"Since she is athletic and has played baseball for a long time," Coach Tom said. "She has developed some pretty decent baseball skills. Baseball is a sport that requires skills that are very specific. Nohea's baseball skills are more developed than some of the boys on the JV team."
Akana encourages others to do what they're passionate about.
"To all the girls that want to play baseball, I say go for it. You may never know what's gonna happen," she said. "Just push yourself to your limits and never give up. Even if it's not baseball, if it's only a boy sport, do it. Don't let nobody tell you that you can't, because you will regret it your whole life."