Girls Soccer Brings Passion, Discipline
Earning second place in OIA Division II Championship in the last season, this year's girls varsity soccer has a shadow to leave behind. With old and new players working as one for the first time, the team faces a challenge of truly coming together as a team.
"I think that the difference from last year is that we need to build a new bond with new players that have come to the team," Samantha Simmons (12) said. "We need to learn to be comfortable with each other through time."
These girls joined the team for their own reasons, whether it was to continue playing the sport they enjoyed, or so there was something for them to do.
Simmons joined the team not only for her passion of the sport, but her love of meeting and working with new people.
"I played soccer when I was little,"  Lily Schutt (12) said. "We moved so I didn't have the opportunity to get onto another team until we came here."
Baley Carr (11) wanted to fill a hole in her life, and soccer filled that void. Her schedule involved being at home or at school, so she felt the need to change that routine. Soccer shifted her life.
"I was just going to school and then sitting at home every single day, which isn't exactly healthy," she said.
Tyra Everage (12) had previous experience with soccer and "felt like I needed something to do, so I decided to play soccer for Radford."
Some of the girls have been playing for years, while others only just started. Carr started playing last year on the junior varsity team.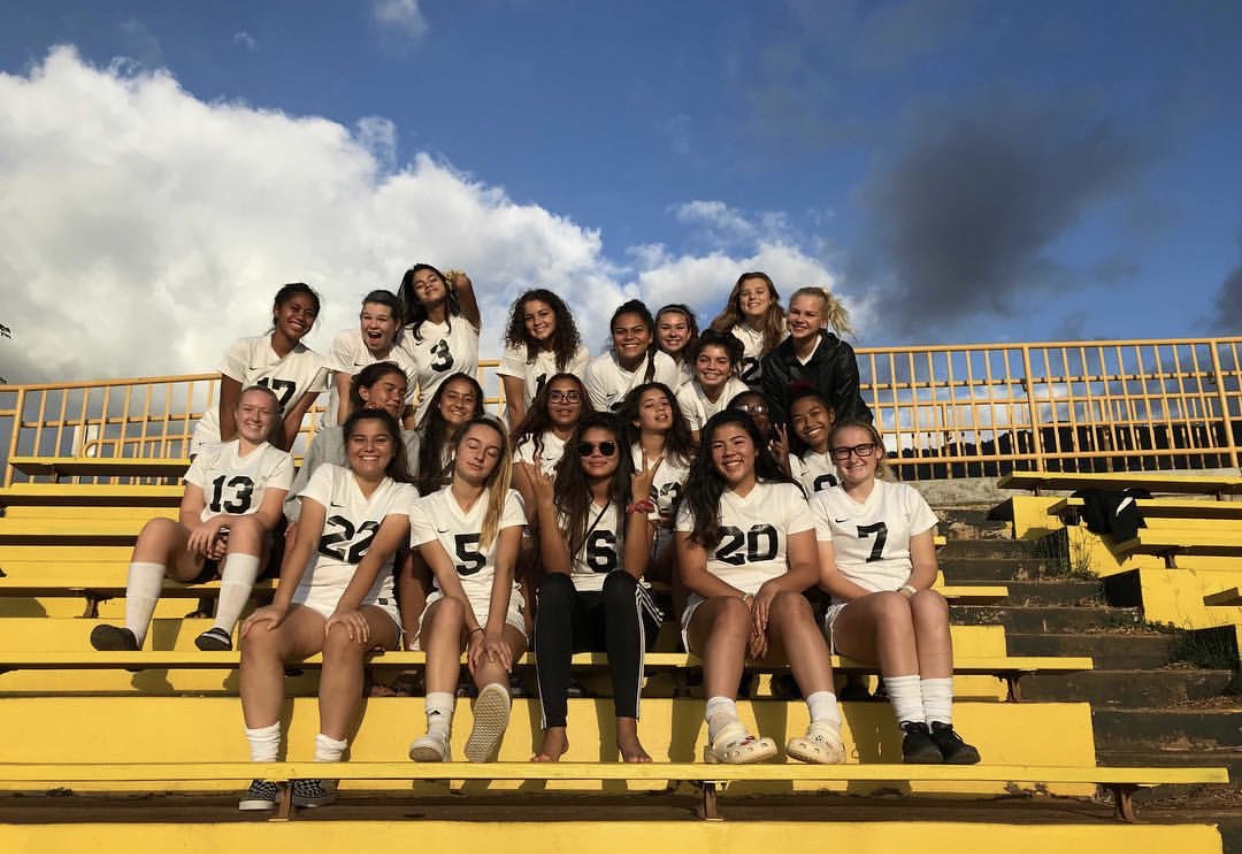 Schutt said, "I played for about four years when I was younger and then I started to play again sophomore year when I moved here. And here I have played for three years now."
With the differences in years of experience, the girls have to learn to play with each other as if they've been together for years.
"We work well as a team," Simmons said. "We need to trust each other when playing as a soccer team. I think that we are forming a strong bond that will help us on the soccer field."
The bond between the girls on the field is just as important as it is off the field. In order to play well together, the girls need to form a connection to each player.  
"We talk to each other on and off the field and that is how some of us bond and get to know each other," Schutt said. "When we talk, it's about anything and everything. I feel as though if anything happened to one of us then we all would stand up and help each other."
Each player brings in her own qualities to make the team thrive. As team captain, Everage brings leadership to her team as "someone is who a model and example for what to do and what not to do."
Simmons makes sure to foster a comfortable environment for the team "because I love to talk to others about soccer. I like to make sure that they feel comfortable talking to the team."
In a sport with so many players, players wanting playing time need to be flexible, and Schutt brings her ability to play wherever her coach puts her in on the field.
"I bring my speed and my ability to pick up on things very quickly so I can help in any positions that I can," Schutt said.
When playing on a team like soccer, there are bound to be many challenges.
"The hardest thing about playing for the soccer team is that when I do things, I have to think about how it'll affect the team," Carr said. "I have to keep my grades up and I can't ever give up because it's not just me that will lose."
Teamwork and communication are qualities that the team as a whole need to work on.
"In the moment on the field, some of us are either focusing hard on ourselves and what we are doing," Schutt said. "We forget that we have other people to help us and forget to talk. We could get better at that as a whole team but I think we are getting better and still have so much to grow on."
Individually, the girls feel as if they all have different qualities that they need to improve on.
"Everything," Everage said.  "Probably not being as sarcastic, be nicer, and keeping people motivated. Sometimes I get a little down but I want to work on keeping everyone together."
Similar to any player, Schutt is her harshest critic.
"I am too hard on myself and I think people might think it is towards them but it is not," she said. "I just try to get better at what I am doing and get a little angry at myself if I mess up more than a couple times."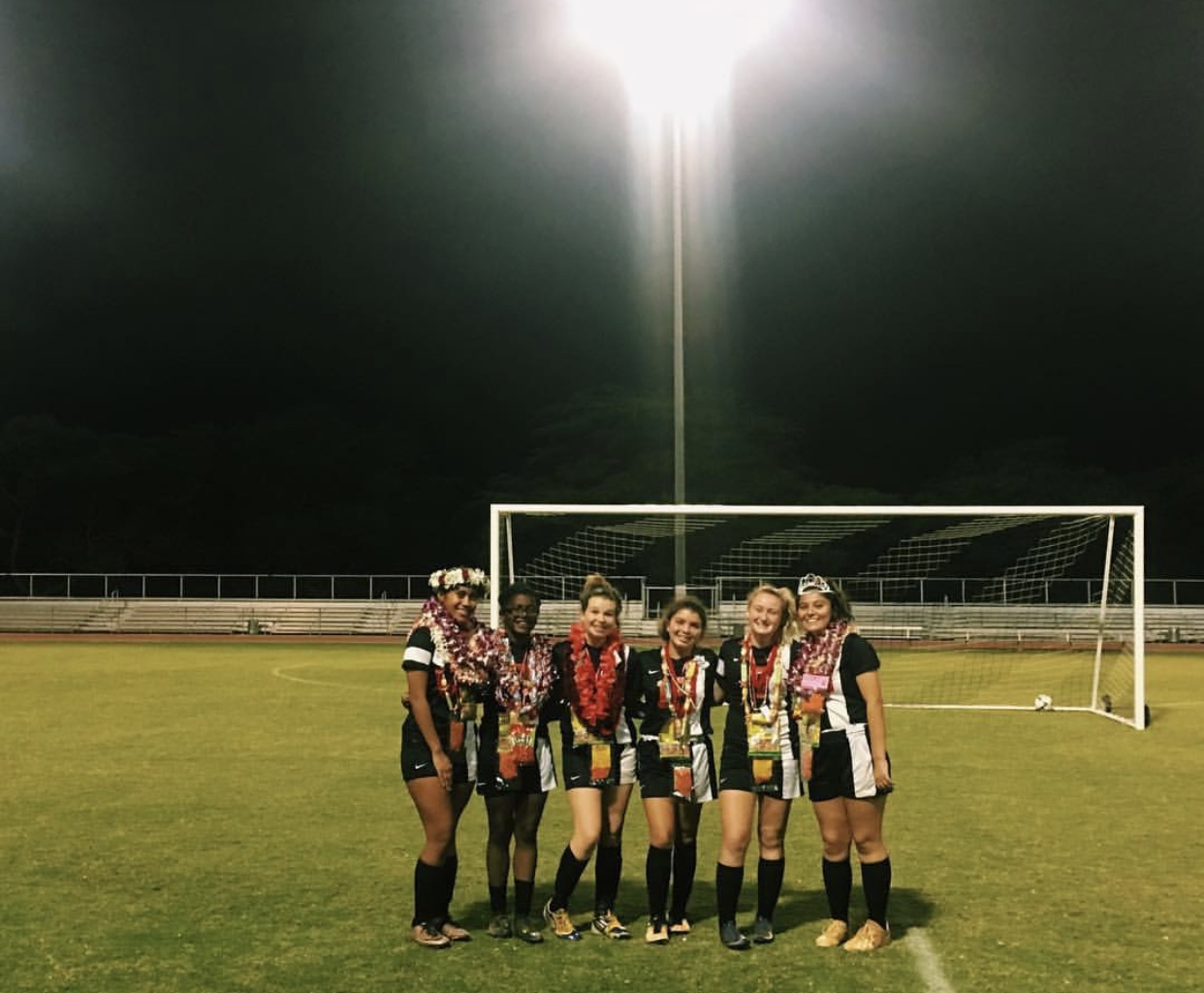 With their criticisms, the girls also have hopes and goals for this season.
"My goal to end the year with a good feeling even if we do not win our games. In the end it matters that we play hard and all work together as a team. I know I was a lot faster last year but I know I have worked a lot harder this year and have grown to really enjoy both of my teams this year and last year," Schutt said. "I suppose one of my goals would be to improve as a player and as a person." Carr said.
When it comes to games, some of the players take moments to mentally prepare themselves for the challenges about to happen.
"I prepare myself for games by clearing my mind and listen to my music or talking to my other teammates." Simmons said. "My teammates calm me when I make a mistake or get frustrated with myself. I would say that my teammates help me mentally prepare as well."
No matter what, these girls chose to be apart of the team because they share a love for the sport.
"It is a contact sport that I do not have to apologize if I push someone. It is my release from all of my troubles that I have at my house and from school," Schutt said. "I love soccer because it brings my dad and I closer together and gives us something to bond about. I have so many sisters but on the soccer field, it is about me and what I can do."