Lady Rams Demand Order in the Court
Being a Lady Ram on Radford's volleyball team is no easy task. Hours of practice spent almost daily to prepare the ladies for their season, including grueling hours of sweat, running, and sometimes even tears. Yet, this does not hold back these volleyball girls from playing their hardest. Girls volleyball consists of two Varsity teams (Varsity and White Varsity) and Junior Varsity.
Some team members are newcomers while others have been around volleyball for years. White Varsity player Nicole Kealoha (12) has been playing volleyball for around seven years, but the amount of years playing isn't always a testament to their skills.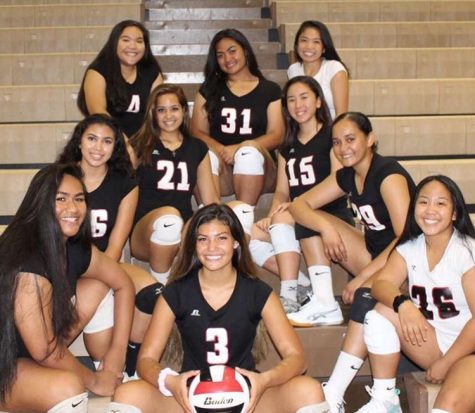 Bailey Miranda Darnell (12) has been on the varsity team ever since she started playing volleyball, only four years ago. After putting forth a strong effort and ambition, she was promoted to team captain her junior year and holds that title senior year as well.
Darnell's bold determination brings qualities of leadership, skill, energy, and communication to the team, which are great traits for a captain to have. She helps lead the team to make then better players.
"I wanted to play volleyball for Radford because I wanted to contribute in helping the team win," she said. "A goal for this year is to make it to playoffs and hopefully go to states. The difference between this year and last year is the connection my teammates and I have with each other. We are very close."
There are a variety of reasons these ladies decided to join volleyball, some focused on the sheer love of the sport while others have differing reasons.
Kealoha said, "I decided to play for Radford because I wanted to finish what my sister started. She didn't get to finish her high school experience at Radford so I guess in my own way I'm finishing it for her."
With reasons varying for playing, the girls are inclined to play their best at a sport they all love.
"I really love volleyball and playing for the school." Jilliyn Chapman (10) said. "I am very motivated and I love playing as a team. One of my goals is to develop into a better player throughout the season."
The girls are motivated to improve despite the occasional tough practices. The special bond and sisterhood on the volleyball court is a relationship that lifts each other up and pushes them to do better.
"My teammates and I work very well together because all of us encourage each other to be the best we can be," Darnell said.
Kealoha agreed, explaining that their fun-loving friendship in addition to the fierce determination is a result of their success. She said, "I think that for us to work together we always have to be having fun but be serious at the same time. We are always having fun and laughing and we work better."
Every girl faces different struggles as the season progresses. "One of the hardest things about playing volleyball for the team is waking up early and going to weightlifting and early practices," Darnell said.
Varsity team puts in extra hours to prepare themselves for the competition ahead of them. Although hardships are often faced, the girls persevered.
"You never know if things are going to work out on the court," Kealoha said.  "But we always have to keep each other's spirits up because on a team we're one family. To me, if you fall, your family is the people to bring you back up."