Swim Team Pushes Selves to Improve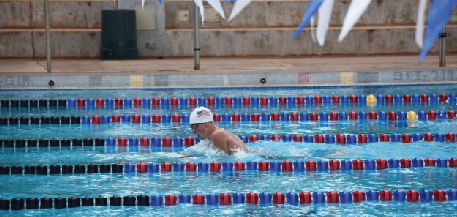 Members on Radford's swim team require not only skills, but dedication. Luckily, the team has motivated players who work hard and prepare for success by practicing for up to three hours a day, six days a week and compete in meets in between.
"Coach Kevin [Arakaki] is throwing out some hard practices to build us up and prepare us for our meets later," Nathaniel Gartner (11) said.
Gartner began swimming competitively in seventh grade and continues to push himself to do better.
"Last year I made it to states, so hopefully I can do the same this year and drop some more time," he said.
Like Gartner, Kalyssa Smith (10) has appreciation for their coach.
"Radford's swim team is so lucky to have Coach Kevin as our coach. He pushes us, but also encourages us to do our best."
Smith joined the team because she was hurt and unable to do any other sport except swim, but she fell in love with the sport.
Katya Bolong (10) recognizes her teammates support and how it affects the sport.     "Most people think that swim team is an individual sport, but that is not true," Bolong said. "Our team is there to support us, and to make us faster. Swim wouldn't be a fun sport without my team, and my coach, because they push us to do our best and make swim season successful."
Both Bolong and Smith said they joined for a healthier lifestyle. While swimming is one way to exercise, it is also a way to gain teamwork skills and friendships.
"I joined the swim team to make friends because I was new and because I wanted to see what it was like to be on a team so I'm so glad I did," Bolong said.
While it's too late to join the swim team, there's always next year.
"Come and try out next year. It's tough but rewarding and we're always looking for more people, "Gartner said.