Boys Track Place First in State Championships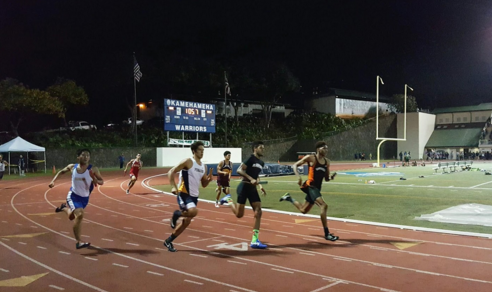 After months of practices, Radford's track and field team claimed multiple titles at the May 7 event.
Probably one of the biggest victories for track and field is the state title won by the boys varsity 4 x 400m relay team. Team members Thomas Reid (12), Solomon Loggins (12), Matteo Dumas (10), and John Faulkner (12) placed first overall in the competition.
"The experience was awesome," Coach Elizabeth Patton said.
Most Valuable Player and state qualifier Brooke Michaels (9) ran in the 1500 meter race, an event she broke records for in previous OIA Championships.
The girls 4 x 400m relay team also claimed a victory, taking 6th place in their race. Team members include Haille Davis (12), Karla Angulo (10), Kamryn Topasna (12), and Sarah Dodge (12).
"It was very windy,  but it was a really good team of girls and they were dedicated and worked really hard," Dodge said. "The whole team worked really hard together in practices. The coaches pushed us all season. It was exciting placing because all the teams were so close in preliminary times."
State qualifier Loggins won 6th place in the 300 meter hurdles, along with another state qualifier Reid, who took first in the state for the 400 meter race.
Races are not without mishaps. Long distance runner and state qualifier Camryn Butz (11) competed in the 3000 meter run, but ran with one shoe because it fell off during the second lap.
Coach Patton recognizes that the team is losing many of its seniors, but "that's what they train for. To get to that level of competition. Everyone competed and they represented Radford with pride."