Tyler the Creator's "Call Me If You Get Lost" is Something Different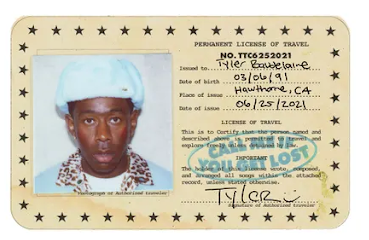 After a two year hiatus after his last album, rapper Tyler the Creator finally released his long awaited project "Call Me If You Get Lost" on June 25, and the hype is real, as always.
"Call Me If You Get Lost" is an album so versatile and jam-packed with a variety that it is hard to really classify what genre the album is. There will be rap songs, pop songs, and skits when you least expect it.
Tyler has always put out memorable and carefully made albums for the people to listen to and talk about for many years later, and this album is no different from that aspect.
However, what this album differs from the rest of his works are the sound and feel. Tyler features artists more frequently than he did on other works, and some songs have a 2000s hip-hop rap-like feel to them, unlike other songs he made. Most noticeably, Tyler can be heard rapping again, which is something that he hasn't done on a song in a while. 
The album also has room for some calm songs where he sings. This makes this album a great listen for both new fans who liked his works like "Igor" and "Flower Boy," as well as older fans who missed his rap works like "Goblin" and "Wolf."
The album features songs that go hard and sound very gritty such as "CORSO," "LUMBERJACK," and "MANIFESTO." Meanwhile, the album also has songs that are very pleasant and calming like "SWEET / I THOUGHT YOU WANTED TO DANCE" and "BLESSED." 
Not all songs will belong in these categories, as there are some standout songs such as 
"WILSHIRE," which is undoubtedly one of, if not, the best song on the whole entire album, and really fits Tyler's goal to be raw and honest on this album. The song itself is about the beginning and end of a failed relationship, which is told in a span of 8 minutes. 
Although that sounds long, Tyler's smooth and unusual Kendrick Lamar-like flow in this song, along with the story being told is enough to get you hooked and make you listen to his story all the way until the end. The song makes you really feel like Tyler is venting all of his emotions right in front of you. With such perfect delivery and execution, it's insane that this was only recorded in one take.
Despite WILSHIRE being a complete 180° in terms of theming and message compared to all the other songs on the album, it still fits very well with the album's theme of travel, as the story changes locations occasionally throughout the song.
Apart from the sound of the songs, the message and theming of the album is also pretty consistent and fun. The album is about Tyler the Creator (under the name Tyler Baudilaire) getting "lost," which in this case means breaking out of your bubble, which is told through its diverse songs with different themes. 
The album makes emphasis on switching around themes, as if Tyler has "lost" himself. But the album does have some consistent themes to it, such as wealth, power, heartbreak, and racial injustice.
With such serious topics as the themes, you can always feel a sense of weakness and sadness coming from Tyler's voice, and you can see that if you listen to the album for a second time. Songs like "MASSA" and "CORSO" come off as flex songs on the first listen, but doing a double take, you will realize that these songs actually act to hide insecurity by acting tough and cool.
"EVERY LINE. I DIDNT EXAGGERATE ANYTHING. EVERYTHING ON HERE IS REAL AND REALLY MY LIFE, HONESTLY MY MOST PERSONAL ALBUM SO ITS ILL THAT PEOPLE ARE INTO IT," tweeted Tyler the Creator after the release of the album.
This album is the most personal Tyler has ever been on his works, with all songs relating to personal issues he has been dealing with. There has never been an album he has made that is this level of being personal, and is why "Call Me If You Get Lost" is something different.
Fans can listen to this album by buying it on Apple Music, or listening to it for free with Spotify, Pandora, SoundCloud, or YouTube.