Queen of Rap Nicki Minaj Releases New Album
Nicki Minaj dropped her album 'Queen' on Aug 10, 2018. In the short time it has been released, it has been a success.
The queen of rap has had a history of triumphs with her previous albums reading number one. Billboard 200 says if her album debuts at number one, she will deservingly become the first female rap artist with three number one albums.
With a vast array of 20 songs about passion, confidence, heartache, and power, Nicki Minaj's 'Queen' captures listeners. I have always loved the bold, clever lyrics of Nicki Minaj and I found more to love in her new album. Nicki truly captured her listeners with soaring confidence.
With recent drama in the media hating on Nicki, I saw this album as a way of Minaj reclaiming her power. In one of her most well-known songs from the album called "Barbie Dreams," the artist poked fun at other rappers and celebrities, calling out each one by name and making a joke specifically directed towards them.
Another song I found powerful was "Majesty" which features Eminem and Labrinth. It's a song where she describes her journey and has made it to the top of the game as a self-appointed queen, calling out her competition and saying how she will not back down.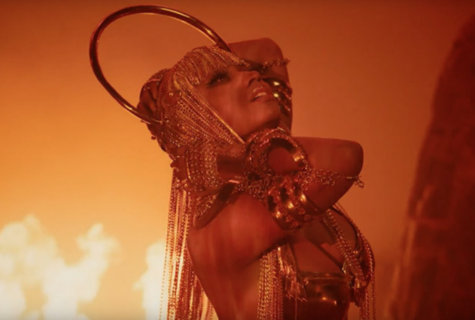 One of my personal favorites though is her song "Ganja Burn," which gave me the impression that she was knocked down a bit, but is having no trouble rising again, especially by the way the music video was shown. It explains before the music starts that the video tells a tale of a queen who is betrayed from within her kingdom and her enemies thought to have destroyed her. Throughout the video, it shows her lifting herself up, bringing vibrancy to the land, and emerged triumphantly. At the very end, the queen is showered in gold jewelry with those surrounding her dancing and praising her reign.
I found that in this album, her words are being used as her sharpest, most powerful weapon.