Why Sierra Burgess Really Is A Loser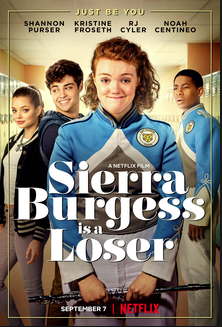 "Sierra Burgess is a Loser" is a Netflix original and is considered a romantic comedy but, really doesn't fall in between any of those lines. The movie is about teen Sierra Burgess finding her way through high school and trying to have her first romantic experience, which was done in the wrong way.
Burgess is bullied for her appearance. Her main antagonist is Veronica who constantly harasses Burgess for the way she looks. There were a couple scenes that just proved this movie wasn't what it was made out to be. A huge mistake involving Veronica was when Veronica made a transphobic joke towards Burgess. It was intended to be cruel and hurtful, and not comedic which is why I see a huge problem. It just perpetuates the culture of bullying. We've come so far in the past few years to try and prevent this type of harassment.
Then there's Jamey, a football player, and also the love interest from a different school who asks Veronica for her number. As another cruel joke, Veronica gives him Burgess's number instead.
Here's where it gets good: Burgess then proceeds to catfish Jamey and pretends to be Veronica. This is a major problem because catfishing is, in any way or form, not okay. Pretending to be someone else without both sides knowledge of it creates so many issues.
Another problem with this movie is that Burgess definitely does something that is morally wrong, and her excuse is that she isn't a "pretty girl." Everyone has their insecurities, but Burgess has a mindset that because she is insecure about herself, she should be able to do whatever she wants involving other people's feelings.
Another scene from this movie that just made me cringe was when Veronica goes on a date with Jamey. Veronica decided to cover Jamey's eyes and have Burgess secretly kiss him without him knowing it was Burgess. This is an issue concerning consent. Though it was just one small kiss, it still isn't right. Jamey should have been able to have the knowledge of who he was kissing.
All this being said the moral of the movie that they tried to show was a genuine theme where Burgess tries to empower young people with insecurities and low-self esteem. Yet the movie has a very difficult time showing it.
I will admit there were some cute fluff scenes that would make some hopeless romantics very satisfied. But, this doesn't hide the fact that this movie was a complete letdown to most. It made me recoil at almost every part and had me wondering how some of the comedic plots were in any way acceptable.