AC Needs to Blow in More Classrooms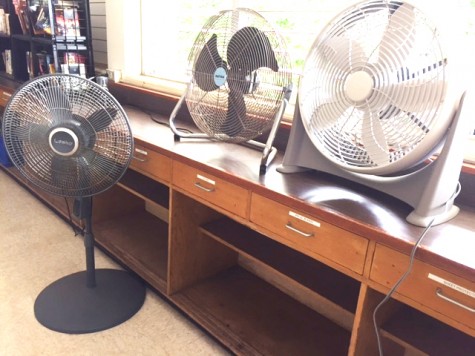 Radford has limited air conditioning, and is only in selected areas of the school. I am a recent transfer from Fayetteville, North Carolina where I spent the last seven years in air conditioned classrooms, so coming to Radford, I was blown away by the lack of AC. Since I only have one class with AC, I honestly can say that my body had to adjust to the temperature change.
My first taste of how uncomfortably hot it gets at school was on the first Monday I was dressed in my NJROTC uniform. OMG! My discomfort was exacerbated that morning when I had to walk to the adjacent elementary school for an evacuation drill. My misery extended into my classes when I had to sit in rooms where the only breeze was the hot air that the limited number of fans were blowing.  I simply couldn't focus on any of my classes for the rest of the day.
I am fortunate to live in Hawaii where our residents never have to worry about 32-degree and triple digit temperatures, yet with its tropical climate, we still need the comfort of AC to cool our population. It is important that we equip every room with AC. While this is an astronomical expense, it will be worth it in the long run.
Apparently, I'm not the only one who feels the heat. Hawaii
Substitute teacher Kim Muralidharan said, "I do not understand how schools were not built without AC and especially if we are in a tropical environment. Students are so worried about cooling off [so] they aren't focusing on the lesson."
The library, Transition Center, counseling center, and office are popular hangouts for students during recess and lunch. It's because they all have AC where students can cool down before heading into their un-AC equipped classrooms. It would be pleasant change to sit in a classroom and not feel uncomfortably hot and sweaty.
I learned while writing this column, that it's not about how we can bring AC units into our school. Our first issue is to address the inefficient electrical power that AC units would have on our already dated wiring.
Vice Principal Richard Shimabukuro said that AC units would cause damage to our circuitry.
We should make it a priority to do what it takes for our school to have AC. Even though the cost will be tremendously expensive to upgrade our wiring, it is unconscionable to allow our youth to swelter in 90 degree temperatures.