Ditch Turkey for Thanksgiving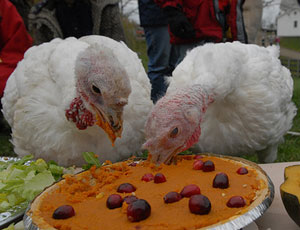 Thanksgiving is an extraordinary holiday for humans where we can eat endlessly, but it is the scariest time of the year if you're a turkey. More than 45 million of these birds are killed for our Thanksgiving tables each year, according to the U.S. Department of Agriculture.
When not forced in cruel conditions and involuntarily fattened up, these birds spend their lives caring for their young, building nests, foraging for food, taking dust baths, and roosting high in trees. In fact, turkeys have personalities as varied as cats and dogs do. The average lifespan of a turkey in the wild is three to five years, while a turkey on a factory farm that is heading for your dinner table, gets its life cut short and only lives for a few months.
So this Thanksgiving, why not have a more humane one? Ditch the turkey and turn to something that is humane. Tons of vegan recipes exists online made specifically for Thanksgiving. But if vegan is not your style, try a vegetarian Thanksgiving (Vegetarian means that no animal flesh is used or consumed, while vegan means absolutely no animal products, or byproducts, are used or consumed).
While going the vegan route may sound extreme, you can still have a delicious meal and know that it's a lot better for you. Some recipes include broccoli almondine, dill mashed potatoes, veggie stuffing, and also mushroom gravy. Substitutes for meat products are easy to obtain and also not as bad tasting as you'd imagine. For example, in the mashed potatoes, substitute soymilk or almond milk for cow milk. Or, instead of using beef/chicken broth, use vegetable broth. Delicious recipes can be found at mouthwateringvegan.com, yummly.com, or even a quick google search will bring up something appetizing. Some people even use Pinterest to search and bookmark recipes. Farm Sanctuary has also enlisted the help of award-winning vegan Chef Chloe Coscarelli to create special dishes for this time of year.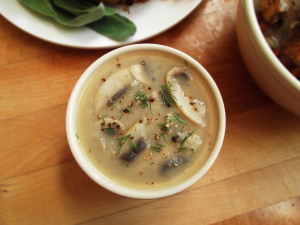 But if you still cannot live without the turkey, you could sponsor a turkey. Farm Sanctuary celebrates turkeys and their glory with its Adopt a Turkey Project. This allows them to rescue a turkey from a farm and raise it to have the life it deserves to have. For a one-time donation of $30, you could sponsor a turkey. You'll receive a picture of a turkey and a description of its personality and what it likes to do. To find out more, visit www.farmsanctuary.org/giving/adopt-a-turkey.
Have a happy and humane Thanksgiving!