Students make friends and have fun at SoFresh Carnival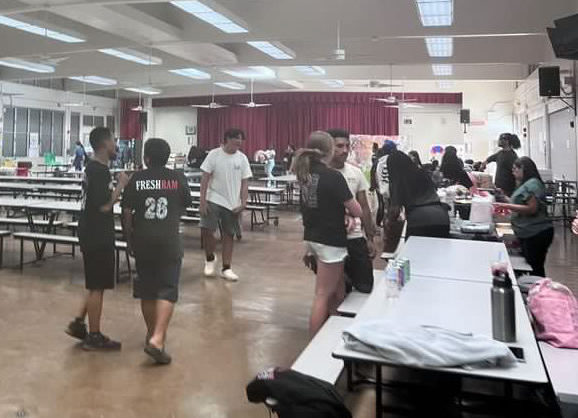 The SoFresh Carnival took place on March 3, from 5-8 p.m. There were numerous games and booths with food. This event was for the sophomore and freshman students and was organized by Freshmen leadership students led by class advisor, Janine Arisumi and Sophomore leadership students led by class advisor Amanda Layne. This was a perfect time to spend with friends and to support the school. The event was originally scheduled to take place at the Radford Practice Field, however, because of the rainy weather, the carnival was moved to the cafeteria, but that didn't ruin any of the fun!
The night was full of fun activities and booths where students could get food and prizes. The games included a giant dunk tank to dunk participating teachers, ring toss, "What's in the Box," dart balloons, and more. 
The main goal of this event was to help students make new friends and have fun. This was Freshman Leadership student David Haley's first time working on a carnival. He helped clarify the purpose of the occasion. "The goal for this event was to make people without many/any friends attend and get them to be together and possibly make friends," Haley said.
Carnivals almost always have prizes to be won, "There were prizes; stuffed animals and food, but in order to get these you had to win a game which in turn gave you stickers to cache in. The more stickers you'd won, the bigger the prize you'd get," Haley said.
Since Haley had never worked at a carnival, he was excited about everything. "I'm excited to get to see more people from school. I think the best part is the food and hanging out with friends or the live music." Haley said. 
The night was full of fun activities for everyone and was really entertaining. Stay connected with upcoming class events by following @rhsco2026, @rhs_co25, and @radford.stuco on Instagram.