Tuitele Wins Miss Plus Word Crowning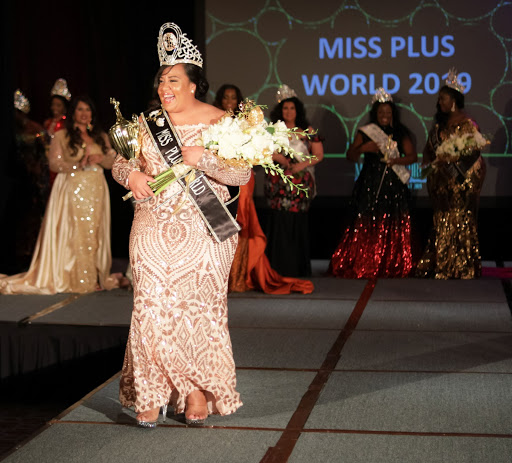 Radford teacher and Radford alumna Sanoe Tuitele, recently won the title of Miss Plus World on Saturday August 10 in Houston, Texas. Last year Tuitele won Miss Hawaii Plus, which was much different winning Miss Plus World.
"Women from all over the world came to compete in this years pageant. I am humbled to announce that I was able to bring home the crown. I currently hold the new title of Miss Plus World 2019," said Tuitele.
Miss Plus World is a pageant which showcases lots of diversity, creativity, style, and leadership of women around the world. They have a goal to build a sisterhood of confident, influential women who share different types of cultures with each other.
The pageant consisted of 18 women around the world, because of this it was more on a national scale which had made it nerve racking for Tuitele.
Tuitele had told herself that she was happy for how far her, along with other contestants, had came. She was, "content with being first runner up," and was shocked upon hearing she was the winner.
During the wait," I just told myself that I was already happy on how far we come and then it made me realize that the process was more for the people who supported me. Than, Necessarily myself. So it was the feeling for everyone who was watching."
In the beginning Tuitele felt indecisive about attending Miss World Plus, but was glad that she was able to participate. Everything had fallen into place for her. "I barely did anything, and everything just happened," she said.
"I have been involved in many different outreach programs with Project Reach along with The Young Women's Prom Event. I am also working to do Humanitarian efforts in Trinidad and Tobago," Tuitele said.
Miss Hawaii Plus offered free training classes to help the contestants with their stage presents, Balance, and public speaking. Tuitele used these skills from Miss Hawaii Plus for the Miss Plus World, but she did not do this alone. Tuitele's close friends helped her with answering unprepared questions which helped discover more about herself.
Tuitele started to do pageants just for the fun of it, and her "Glam Squad" believed in her. The family of Tuitele was more excited than she was when she participated in her first pageant. Tuitele wanted to work on her self confidence and to be an example for the plus size community on a different platform.
"My future plans for pageantry are still in the works, but I want to eventually grow the plus size pageantry here in Hawai'i," Tuitele said. Currently there are only two pageants in Hawai'i that accept plus size contestants, and her dream for pageantry is to, "enhance and showcase the beautiful full figured women of the Polynesian Islands."
Tuitele's advice for the students of Radford who have an interested in joining the Miss Hawaii Plus pageant is to just go for it. She says, "You will learn so much about yourself by having self love for your body, your abilities and your dreams."
Many people are struggling with self love and are feeling uncomfortable with themselves. "The biggest enemy is yourself," Tuitele says. We chose if we want to listen to hurtful words or the beneficial and inspiring words.
"It is you who needs to believe that the person in the mirror is beautiful or handsome." Tuitele says.
"You are the change you need to be for yourself, those who surround you are your cheerleaders, and if their not cheering for you then it's time for a new squad. #BeTheChange"