Wiggins Takes First Place in Competition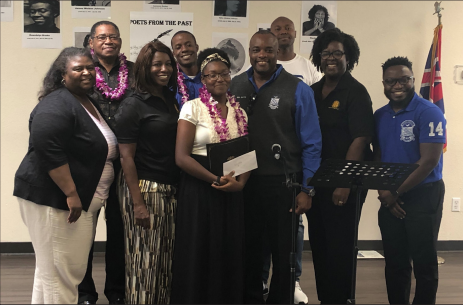 TaNiyah Wiggins (9) took first place in the high school division when she participated in the 9th annual Poets of the Past youth poetry competition. She won a cash prize with the poem "Ain't I a woman?" by Sojourner Truth.
"I looked for the most overlooked but powerful poems so that people wouldn't hear the same thing over and over," she said.
The contest was hosted by Blacks in Government and Phi Beta Sigma celebrating (non-living) African American poets of the past. Participants presented a poem with no less than 100 words in length, shared five facts about the poet, and dressed in business atttire to present the poems.
Wiggins said that she prepared for the competition several weeks prior to the event.
"I constantly had to rehearse and I did my research on that time in history to try and get into character," she said.
Winning the poetry competition meant more than the cash prize.
"I got to get in touch with my roots and really get a feel for why these poets felt so strong about the things they did," she said.
Wiggins also took first place in the Hawaii Association of Insurance Professionals Safety Essay Writing Competition with her essay "My First Day of School" about distracted driving.