Outstanding Educator Awarded Central District Teacher of the Year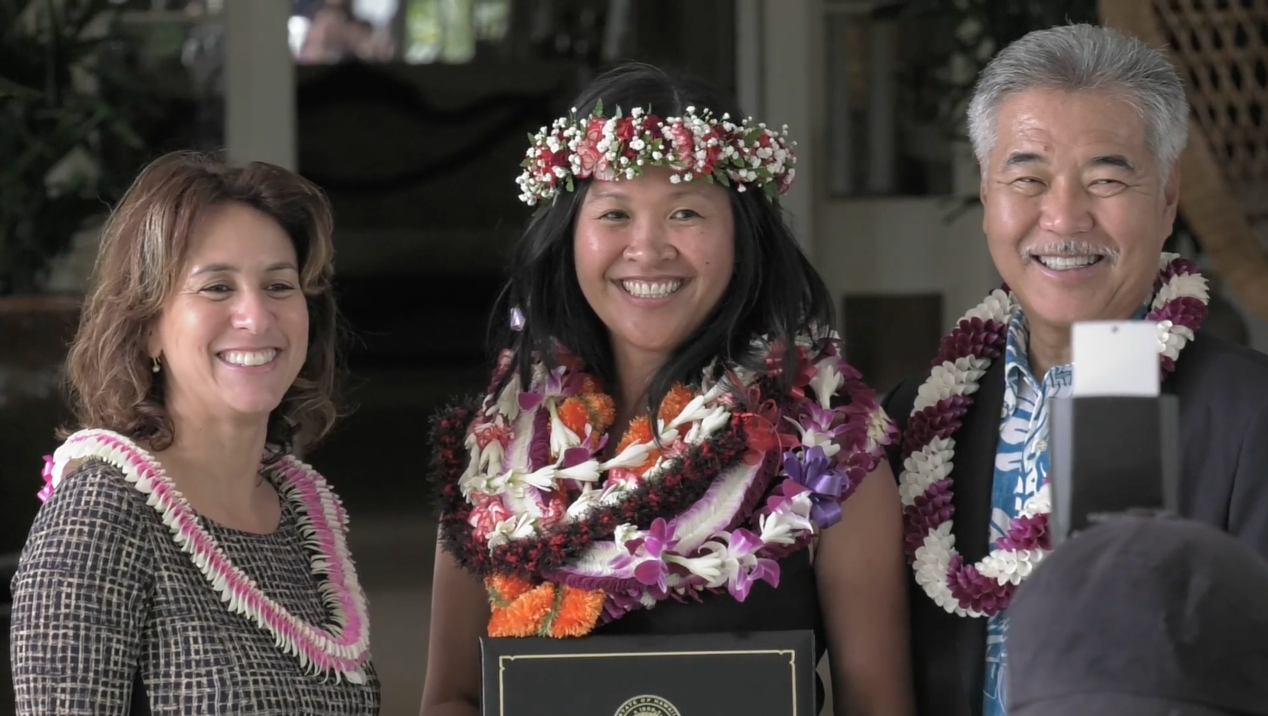 After 22 years of teaching, Radford High School teacher Mary Ann Kurose is Central District Teacher of the Year. She graduated from the University of Hawaii at Manoa in 1996 with a bachelor's degree in Secondary Education with an emphasis in English. Kurose has been recognized for her excellence in education with awards from the Mayor's Office, the Hawaii State Teachers Association, and Oceanic Time Warner Spectrum.
A self-professed introvert who avoids being the center of attention, Kurose didn't see herself winning the award.
"I really didn't think I had a shot," she said. "I honestly don't think I do anything differently from my colleagues because I truly believe we want the best of our students, so we all do what we need to do to be the best for our students."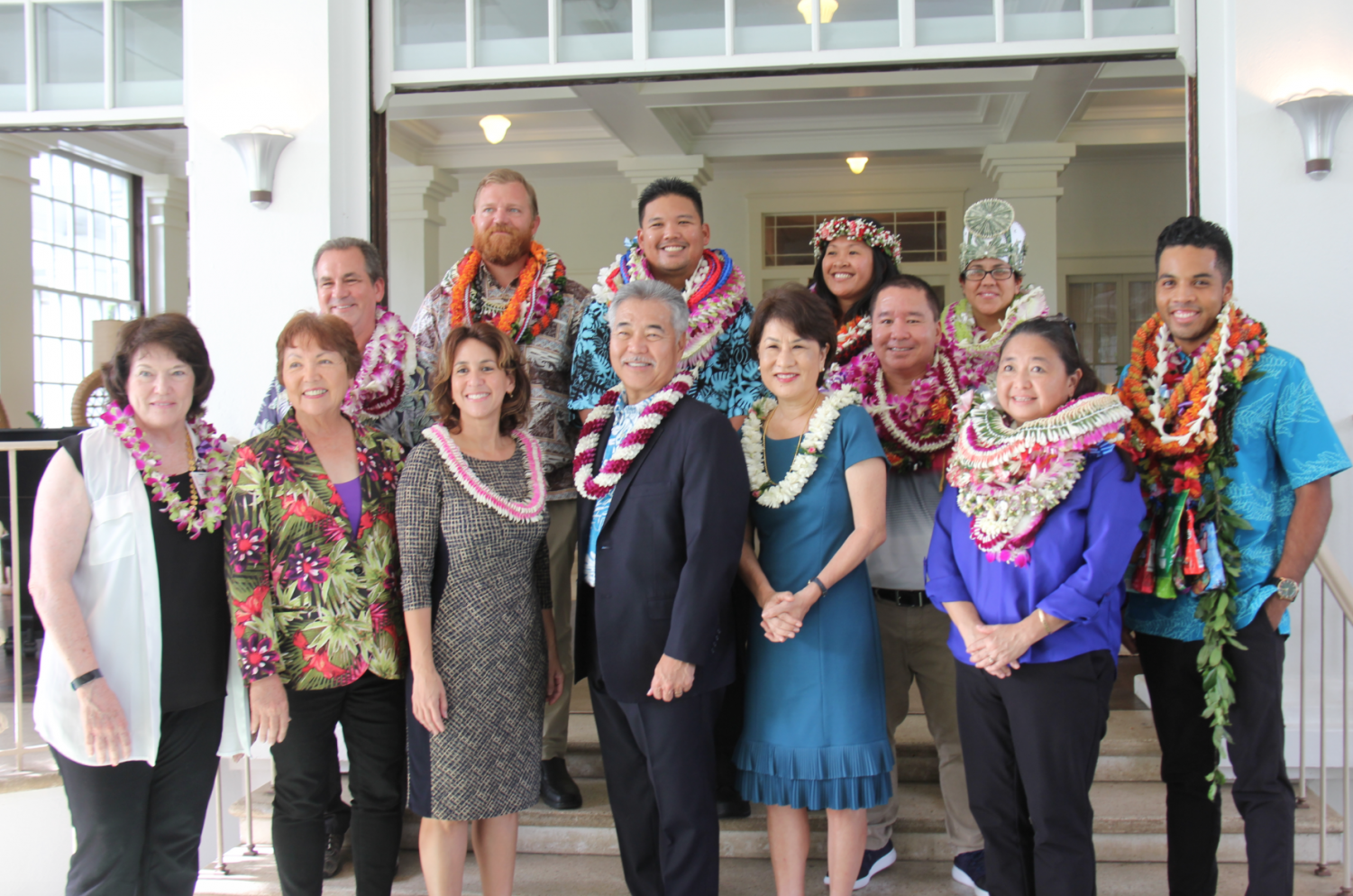 Kurose was in disbelief when she received a letter in the mail from the state superintendent, informing her that she was selected as the Central District Teacher of the Year. In fear of appearing vain, she only shared the celebratory news with her family and a few close friends.
"Anyone who knows me knows that I shun the spotlight," Kurose said. "Up until the ceremony, I was keeping it very low key. In fact, I was anxious about winning because that meant I would have to speak. It was only at the ceremony when I was mingling with the other district recipients that it hit me. This was a major award. There were eight of us from across the state being recognized at the ceremony. Even though I didn't win the state [teacher of the year] award, I have so much appreciation for everyone who stopped by to see me or drop me a note sharing their warm thoughts and well-wishes. In fact, I've reconnected with people from the past. Many former students and their parents reached out to me since learning of the award."
Kurose started her teaching career at Honoka'a High School, on the Big Island and arrived at RHS in 1997.  She has been teaching English to grades 9 through 12 as well as a variety of other subjects.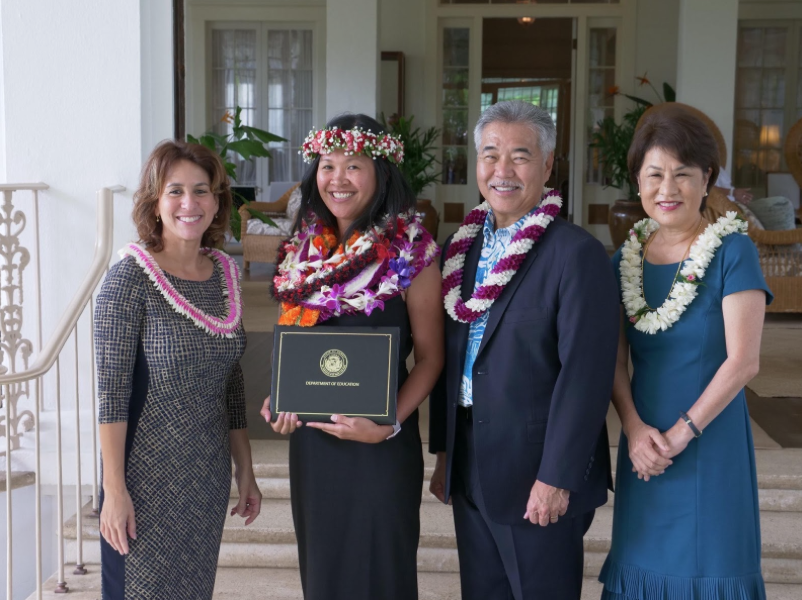 "My degree is in English yet through years of professional development, I'm teaching Web Design, Newswriting, AVID, and Strategic Reading," Kurose said. "I've discovered latent skills and interests that I never would have explored had I not been given opportunities to learn."
Troy Okamoto, Kurose's former student teacher who is currently teaching social studies, has learned a tremendous amount from observing her interactions with her classes.
"After working with her since last year, she has really impacted the way I approach teaching in my class," Okamoto wrote in the faculty publication "Ram Bright Spots." "She not only provides meaningful and engaging lessons with her students but also enacts the motherly figure that every child needs. She is always willing to try new things in the classroom and to bring energy and light to the students' lives."
Curriculum coordinator Meri Okano finds many of Kurose's qualities essential in making her a quality teacher for the classes she teaches and admires her relationships with her students. School administration made a decision to support struggling readers a few years ago by creating a new Response to Intervention reading class. According to Okano, she was the perfect fit.
"Mrs. Kurose's professionalism, effective pedagogical practices, and sincere care for students made her the right choice to teach a new course focused on helping struggling readers," Okano wrote on the school's website. "She works closely with her students and finds effective ways to help them develop the skills and gain confidence as readers and as people."
Kurose's bond with her students is what makes her an outstanding teacher.
"The dedication of her student editors and staff is a reflection of Mrs. Kurose's commitment to them. The impact she has had on these newswriting students is evident when you see them return to her room long after they graduate to continue to help with their high school newspaper while pursuing their own journalism careers," Okano wrote on the website. "She has graduated three classes of AVID students who stayed with her through all their years at Radford. The life-long skills and relationships these students build in her AVID class stem from the culture of caring established by Mrs. Kurose."