Boys Varsity Volleyball Bounces Back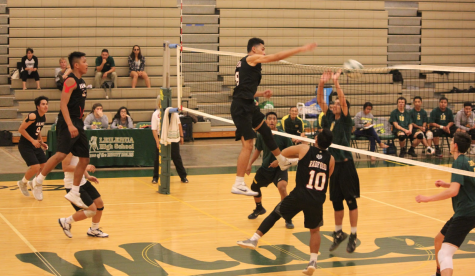 For the past couple of seasons, Radford's Varsity Boys Volleyball has been at the bottom of the bracket. In fact, they went through the season losing every game in 2014.
Micah Sala (11) plays as an outside hitter, as well as maintaining the role of a dedicated court captain. Aware of the team's poor history he stood up and took initiative, making a conscious effort to change people's minds.
"The main challenge we faced as a team this year was to prove everyone wrong on their thoughts of the Radford volleyball program," Sala said. "This season we knew we could change our reputation."
And they did. The team managed to turn it around with fierce competitiveness, tough integrity, and a family resembling bond. They ended the season scoring 9-4 overall, and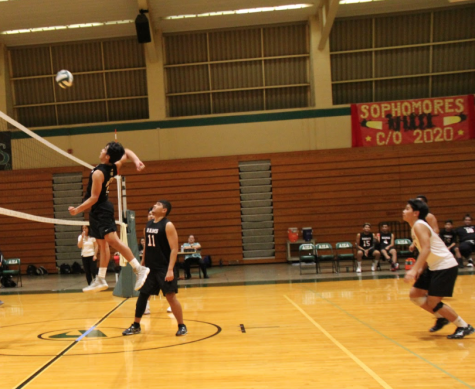 8-2 league.
Although it was a team effort, Sala credits the 2017 MVP of boys volleyball, Jude Pauulu (11), for using his skills to help the team.
Pauulu played as a middle blocker for all of his three years of playing and led the team in blocks while it was Sala's duty to lead the team in kills.
"I enjoy it because I like the quick sets. It makes me feel like I'm too quick for the other team," Pauulu said. "In my opinion, I feel like it's one of those positions that keeps me conditioned because you would have to go in for every set, then block, then approach for the ball again, and the process continues."
Bringing love to the sport and making it family oriented are Sala's qualities of leadership.
"I like to be someone who is dependable," Sala said. "I have always been taught that communication is key so having loud voice really, really helps, but being a leader is something the team likes to have."
The devoted court captain has a tight bond with his teammates, and believes that their brother-like companionships contributed to their success.
"We all became brothers on and off the court spending time with each other during school, at home on Fortnite, and hanging out either at the gym or at the beach," he said. "The chemistry helped us win so many of our games because of the trust we have. Just knowing where they other person would be due to playing with them for so long."
Pauulu agreed that their bond is the main reason why they went so far this season.
"Family is the word to describe that bond because in a family, we accept each other for who they are," he said. "We all literally started off as freshmen joining volleyball and we all grew with each other."
While having fun and developing friendships is a large part of playing on Radford's team, Sala cautions newcomers to be ready to work.
"At practice we do a crazy amount of conditioning so we will be prepared for the upcoming game," he said. "Just be ready to work each and every time you get the opportunity to do so. The coaches are people who you can get really close to and people who can help you no matter the situation. Try your best to get close with your teammates, strive to be family."
Sala, however, doesn't mind the work. He has an impulse ambition and adoration for the crucial importance of his position.
"I have been playing the outside hitter position since I started playing. It's a position I love because of how much responsibility I have as a passer, hitter, and blocker," he said. "It's just so fun and a lot of sets come your way."
Regardless of the difficulties, both boys love the game and advocate to share the fun and brotherhood with others.
"If you're attending Radford and are willing to try out for the volleyball team, do it because you will not regret it. You're going to meet great people and especially the coaches," Pauulu said . "The coaches will take you in as one of their own and that's a fact. This won't just help you on the court but off the court too."
Volleyball season is over for the boys, but they are proud of their accomplishments this season.
"I think we did amazing this season," Sala said. "I saw each and every player step up together to progress as one team."
Pauulu agreed, saying that this season was the best one yet.
"We just moved up from Division 2 and we did pretty good for our first time in a new Division," he said. "It was actually a good experience for us too because we made playoffs. Gave us another type of level of volleyball since this is where the best play in the OIA."