Ah Choy Comes Calling Back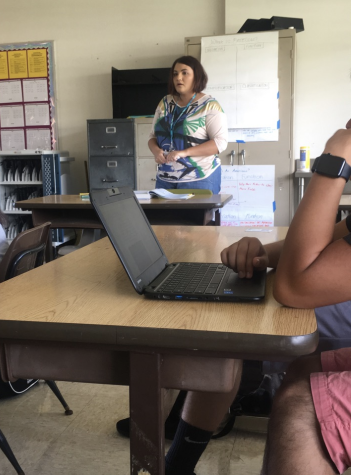 Junior and Advanced Placement English teacher Zandra Ah Choy-Agusen is a familiar face on campus. She previously taught at Radford for five years before leaving two years ago when she moved to Oregon. There was no question that she would return to Hawaii.
"Of course I would only want to come back to the best school–so here I am," she said. "I definitely missed the students and school. We have the best students who are respectful and hardworking."
Ah Choy-Agusen is a Kamehameha Schools graduate who earned her bachelor's degree in English from Mount St. Mary's University (CA) and master's degree from University of Hawaii Manoa.
She finds teaching really rewarding and a never ending adventure as "each day is different."
"I especially enjoy seeing what they've accomplished and what they are planning to do at graduation," Ah Choy said.
Before becoming a teacher, she worked as a Youth Director for the YMCA. Now, she's influencing kids everyday in her classroom.
"I enjoyed working with children and teens; however, I wanted to be able to make a bigger impact and thought that I could do so in the classroom. I had amazing English teachers in high school and wanted to be able to provide that same experience for others," she said.