Tuitele Rolls into Teaching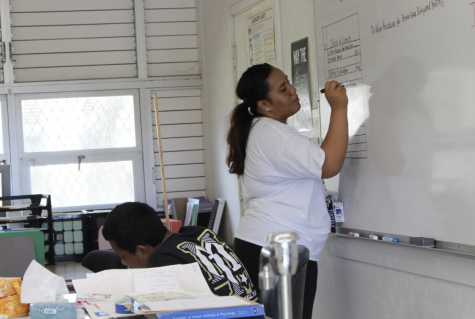 Sanoe Avetonu Maluhia Tuitele is a first-year teacher in Radford's Resource department, teaching Biology and math.
She is a Radford alumna who graduated in 2011, and recently graduated with a Bachelor of Science degree in Criminal Justice from Hawaii Pacific University.
In the beginning, Tuitele said she had no interest in teaching at all.
"It just kind of happened and I just rolled with it," she said. "I always had an interest for science and math in high school and now I'm teaching it. During my sophomore year in high school my biology teacher [curriculum coordinator and former science teacher] Mrs. Toloumu at the time had a lab experiment in her class which inspired me to go into Criminal Justice, and now I'm back at Radford teaching Biology. Mind Blown."
She returned to her alma mater because she truly loves Radford.
"From my freshman year in high school till now the people I met at Radford will always have a special place in my heart because they have helped me grow into the person I am today," she said.
She has a love for her job and considers it to be a blessing.
"I just graduated in December of 2016 and this school year I was just gonna be a substitute teacher while waiting to get into the police academy and now I'm an actual teacher," Tuitele said.
She considers teaching rewarding because, "these students all have the opportunity to go places in life, and I get to be a part of helping them get there."
In her free time, she loves to dance, coach and play basketball, and give back to the community. She currently advises the Samoan Club.
She wants people to know that she's very loud and loves to make people laugh.

"I'm very competitive and I love love love to have fun," she said.