Armstrong Finds Passion in Teaching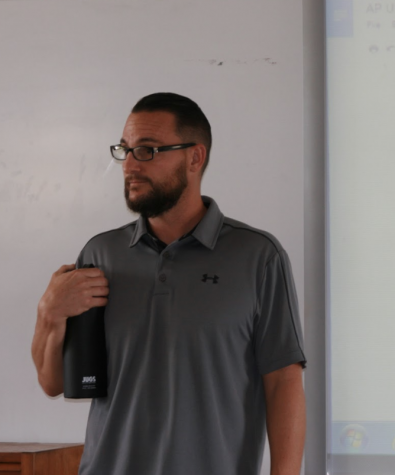 Social studies teacher Travis Armstrong teaches US History and AP US History. While he is a first year Ram, Armstrong has been teaching for 10 years, spending the last decade at Highland Intermediate in Pearl City.

"I went to the University of Hawaii at Manoa. I got my bachelor's there. I also got my master's at The American College of Education," he said. He has degrees in Secondary Education in Social Studies and Curriculum and Development.
Armstrong is passionate about what he does.  
"There's not really a day that goes by when I'm like I don't want to go to work. It's good. it's rewarding, it's fun.I don't have any days when I'm like I hate this job. I look forward to waking up every morning and doing what I love to do," he said.
He thinks the best part of teaching is helping students develop skills that will help them be successful post-high school.
"You don't really get to see the benefit during school, so when students years later come in and say 'I really appreciate what you did,' it makes it all worth it. Makes it worth it from all the times you don't get to see it," Armstrong said.
He said students have been receptive and respectful and "they know how to handle themselves in the classroom."
Armstrong said that he takes what he teaches and tries to relate it to things that will make students understand that it's more than just history.
He said that he works with students "to build things that are greater than the content. To go outside of that realm to help people."
Armstrong is originally from Oregon where "it's nice, but the winter is really long, cold, and rainy." So, he prefers to visit in the summertime, because "I don't really like being in the cold."
When he is not teaching, Armstrong puts in time to exercise at least five or six days a week. Coaching is his other hobby.

"In fact, coaching is probably more a career than my teaching but it kind of goes hand and hand." he said.
Armstrong is married with two daughters, ages 4 and 5.
"They keep me on my toes and they keep me busy," he said. "I talk about them more to show people that I'm real. A lot of teachers aren't really open and I like to humanize myself. To show the struggle my students have, I have too. I try to be open with my students. I think it builds a better connection. To show them that I'm an actual human."